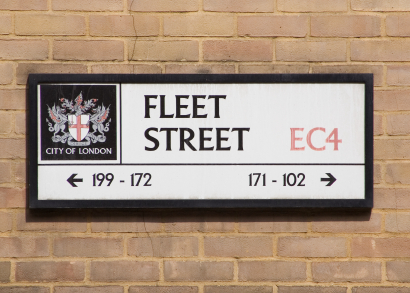 Fleet Street – The historic heart of Britain's newspaper industry is Fleet Street. Given its past as a centre for publishing and printing, Fleet Street has become linked to some of Britain's most notable literary personalities. A main thoroughfare throughout its history, Fleet Street is today connected with the rest of the city with nearby Underground stations, including Temple, Chancery Lane, and Blackfriars, as well as the City Thameslink and Blackfrairs railway stations.
History
Fleet Street can trace its roots to the 13th century when it connected the City of London with Westminster, linking the capital's commercial and political centres. By the 14th century, Fleet Street was bound by the medieval walls of London to the east and Temple Bar to the west. In the early 16th century, Fleet Street saw its first publishing businesses emerge when Wynkyn de Worde established a printing shop close to Shoe Lane. More printers and publishers would follow, and by 1702 London's first daily, the Daily Courant, began printing from Fleet Street in offices above the White Hart Inn.
Some of Britain's more notable literary and political characters have become associated with Fleet Street. Perhaps one of the road's most notorious characters was barber Sweeney Todd. Todd is said to have lived and worked there, and became an infamous serial killer in the 19th century. Although there remains dispute as to whether or not he was merely an urban legend or based on a real person, Sweeney Todd has appeared in numerous novels, plays and films since he was first introduced in the 'The String of Pearls: A Romance' serial in 1846-47.
Notable figures that lived along or near Fleet Street included philosopher and statesman Edmund Burke, English Renaissance dramatist and actor Ben Jonson, author Samuel Johnson, and writer and poet Oliver Goldsmith. A number of 17th century literary greats were also based for a time at or close to Fleet Street, including poet and scholar John Milton, writer Izaak Walton, and poet and playwright John Dryden.
Fleet Street Today
Fleet Street's history as the home of the British press came largely to an end in 2005 when Reuters closed its offices. Despite the departure of the last major news office, Fleet Street remains linked with the country's publishing industry. The Associated Press, the Newspaper Society, and The Jewish Chronicle remain located near Fleet Street, and publishers D.C. Thomson & Co. are located on Fleet Street. The British Association of Journalists and Metro International, publishers of free newspapers in cities around the world, also maintain the road's links to Britain's publishing heritage with offices at 89 and 85 Fleet Street, respectively.
Many of the newspapers that were once based along Fleet Street have relocated east to Wapping and Canary Wharf. The road is now know for being the home of professional associations and chambers for barristers. Fleet Street has also been known for its vibrant social scene. For centuries, taverns and coffeehouses have lined the road. With the road's strong publishing roots, these establishments were often frequented by notable writers, poets and printers, as well as political elites. Many pubs and cafes continue to welcome patrons to this day, including the legendary Ye Olde Cheshire Cheese, which was once frequented by the likes of Mark Twain and Sir Arthur Conan Doyle.
Thinking of opening a new office in the Fleet Street area? London Office Space has a number of available serviced offices on Fleet Street.
Further guides on important streets in the city of London including Baker Street, Broad Street, Goodge Street, Great Portland Street, Old Street, Cannon Street, Regents Street, and Oxford Street.