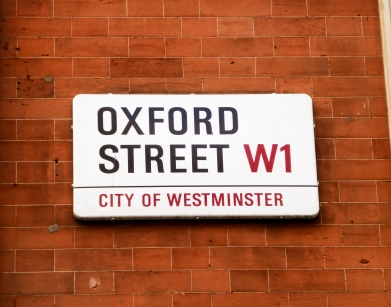 Oxford Street is the home of London's fashion scene and a world class shopping district. Shoppers and visitors to London will find some of the best and most luxurious shops and brands along Oxford Street. Over one-and-a-half miles of some 300 boutiques and shops, department stores, luxury hotels, and fine restaurants combine to create the busiest shopping street in Europe.
About Oxford Street
Oxford Street is bound by the Marble Arch in the east and Tottenham Court Road to the west. It follows the route of a former Roman road that connected Hampshire with Colchester. The River Tyburn runs underneath Oxford Road, with the Grays Antique Centre close to the junction with Bond Street featuring claiming to have an open conduit where part of the stream flows into its basement.
Since the 12th century, Oxford Street has also been known as Tyburn Road, Uxbridge Road, Worcester Road, and Oxford Road. Its current name was adopted in 1729. From the 19th century, Oxford Street became synonymous with shops and London's retail and fashion sectors. Prior to this, the road was infamous as the final leg for condemned prisoners travelling from Newgate Prison to gallows near Marble Arch. Extensively bombed during the Second World War, Oxford Street was also the target of IRA bombers in the 1970s.
Oxford Street Highlights
Today, flagship stores for some of Britain's biggest retail names dot Oxford Street, including Debenhams, John Lewis, and House of Fraser. The largest Marks & Spencer store in Britain is also found along Oxford Street at the junction with Orchard Street. Marks & Spencer also operates a branch at the Pantheon, the site of an ornate theatre that originally opened in 1772 and demolished in 1937. HMV also operates the largest music store in Europe at 150 Oxford Street.
Halfway along Oxford Street where the road meets Regent Street is Oxford Circus. Designed by John Nash and built in the 19th century, Oxford Circus today is where you will find a tube station, frenzied shoppers, and a sprawling pedestrian scramble or diagonal crossing, which was added in 2009.
Every year since 1978, Oxford Street has been decorated with Christmas lights during the holiday shopping season. A tradition started in 1959 and interrupted by a recession that began in 1967, the lights have been switched on by celebrities since 1981. Jim Carrey, Charlotte Church, the Spice Girls, the Sugababes, the cast of Coronation Street, and Richard Branson have been some of the famous faces that have officially launched Oxford Street's busiest shopping period.
Oxford Street's Impact on the Economy
The fashion industry in Britain contributes over £21 billion each year to the economy, according to the British Fashion Council. The industry also supports approximately 816,000 jobs. Oxford Street alone is home to over 200 British fashion brands. The area employs over 50,000 style experts and educates over 2,000 students in fashion. It also attracts over 100 million visitors each year, who spend £4.9 billion every year along Oxford Street.
Getting to Oxford Street
Whether by public transit, by car, or on foot, Oxford Street is well connected. Bond Street, Marble Arch, Oxford Circus, Piccadilly Circus, Tottenham Court Road, and Green Park tube stations are found either along or near Oxford Street. The shopping district is also with a short walk from ten of London's mainline railway stations. Nearly 20 bus routes make their way through Oxford Street, connecting the area with other parts of London, including Notting Hill, Victoria and Paddington stations, Tottenham, and Trafalgar Square.
Thinking of opening a new office in the Oxford Street area? London Office Space has a number of available serviced offices on Oxford Street.
Further guides on important streets in the city of London including Baker Street, Broad Street, Goodge Street, Great Portland Street, Old Street, Cannon Street and Regents Street.