Rent Move-in Ready Offices & Workspace
Take a look at our Finsbury office space, available to rent on flexible terms, including executive suites and furnished offices benefiting from a full service package. We also have coworking and shared workspace, conventional commercial property, desk rental, warehouse space, short term office space available with easy in/easy out options, and virtual office opportunities. Our easy to use, Central London office space search service is focused on finding you the ideal business accommodation at competitive rates.
1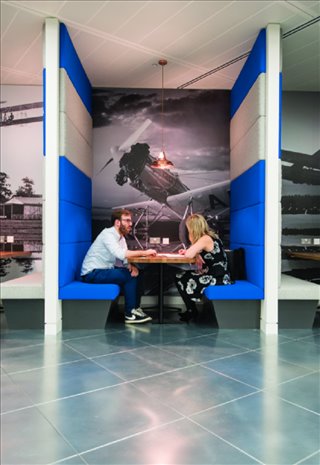 Designed by architects Sheppard Robson, 10 Finsbury Square features approximately 150,000 square feet of Grade A office space. Functional and attractive office designs are complemented by stunning building features, including a distinct facade. A green roof features native species, while energy efficient systems minimise environmental impact and keeps costs down.

Building amenities include facilities for commuters that bike or... More info
Serviced from £649 per person per month
Coworking from £449 per person per month
10 Finsbury Square, Central London - EC2A 1AF
---
2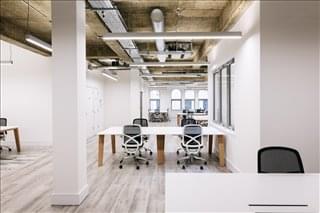 Newly refurbished to provide high-quality serviced office accommodation, 21 Worship Street houses a mix of office solutions and provides valuable services to your business. With offices starting from 1,635 square feet, you will find workspaces for up to 300 people. These City offices are ideal for virtually any business, whether you are a start-up or a multinational looking for room to grow.

Air-conditioned office spaces exude an... More info
Serviced from £650 per person per month
21 Worship Street, Finsbury - EC2A 2DW
---
3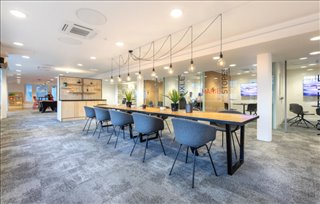 This excellent office space is situated in a recently refurbished former warehouse and provides open plan studio space, making a perfect place for creative and commercial companies to base their business. This flexible office space is perfectly located between the financial district of the City and the vibrant creative hub of Shoreditch. The office building has an industrial yet modern feel, supported by an impressive reception area, with a... More info
Serviced Offices - Call for latest price
1 Finsbury Market, City Fringe - EC2A 2BN
---
Business in Finsbury
Finsbury is on the border of two of London's major industries, finance and technology. Although it covers a larger area, Finsbury grew out of Finsbury Square. The green space emerged as the centre of a new residential suburb at the end of the eighteenth century. Finsbury Square sits south of the Silicon Roundabout on Old Street within London's tech hub. To the south-east are the financial and legal centres of London, including many of the City's tallest office buildings. In recent years, Finsbury Square has also been the focus of new office development.
Office Buildings in Finsbury
Completed in 2014, 10 Finsbury Square provides more than 150,000 square feet over eight floors. Offices feature flexible open spaces that overlook some of Central London's largest green spaces. The ten-storey Grade A office building has a BREEAM rating of excellent and uses a ground source heat pump system to provide year-round heating and cooling. Formerly Triton Court, the Alphabeta Building at 14 Finsbury Square is another new office development in the area. The redevelopment project created 210,000 square feet of modern office space. Completed in 2015, the office building includes a nine-storey atrium, roof-top bars, and small office clusters. It is also the UK's first 'cycle-in' office, allowing cyclists to ride into the building from the street through dedicated ramps from the lobby to a secure bike storage area.
Finsbury Transportation Links
Finsbury Park, Manor House and Harringay stations provide fast travel links across London, and the area is also well served by a number of local bus routes.
About Finsbury
Finsbury is a largely residential area in the London Borough of Islington. It sits north of the capital's financial hub in the City of London and west of the high tech industries based in Shoreditch. The Central London district means 'manor of a man called Finn' and was built on a fen once found outside of the City of London's ancient walls during the Middle Ages.
Building at Finsbury started in the late seventeenth century with St. Luke's parish church and by the end of the eighteenth century the area emerged as a residential suburb centred on Finsbury Square. Today, landmarks in Finsbury include the old Finsbury Town Hall and Exmouth Market. It also the home of the sprawling Finsbury Estate, a housing estate with four high-rise blocks that accommodate more than 400 residents.