The British capital has a very active startup scene: it is estimated that approximately 17 per cent of the city's workforce consists of freelancers, and business birth rates are above the national average at nearly 18 per cent. London's solid entrepreneurial spirit has driven the demand for flexible office space as a practical and cost-effective alternative to conventional leases.
London Prestige

It provides an opportunity to enhance brand image due to London's prestigious reputation as a global business hub.
Flexibility

Flexibility in terms of the cost and length of contracts, which makes this type of space suitable for small businesses and helps them manage their finances better during the initial stages.
Range of Options

The growing popularity of this office space arrangement means that there is a wide range of options to choose from.
High Specifications

Modern facilities in high-spec office buildings, whether they are purpose built or refurbished.
Networking Opportunities

An open plan and convivial atmosphere that promotes collaboration, networking, and can help establish new partnerships that could be crucial to the development of a business project.
Inexpensive Start up

No initial capital or financial commitment required, and no exit or disposal costs.
Inclusions and Exclusions
Coworking and shared office space is usually available in two forms: as an all-inclusive membership or in monthly packages that offer access to desk space and a number of extras. The majority of monthly coworking space contracts include:
Access to furnished shared office space.
The provision of telecommunications and IT infrastructure (e.g. fibre optic broadband, WiFi, a landline number, voicemail, etc.).
24/7 access to the premises, so tenants enjoy the freedom to work when it suits them best.
The use of a business address.
Access to shared facilities, such as kitchen areas, showers, game rooms, individual pods, and lockers. Some centres also offer private rooms that can be used to meet clients, discuss confidential projects, etc. Membership schemes in large shared space providers usually offer access to shared facilities in multiple locations, both within the UK and at international level.
Office security and cleaning services.
On the other hand, typical exclusions include access to telephone headsets (although these can be rented at a fixed fee), the cost of using printing, photocopying, and scanning equipment, and access to storage space.
Typical Costs and Budgeting Considerations
Shared office space is mainly used by micro businesses, small business during the start-up stages, freelance workers, and other professionals who have limited financial resources and who do not or cannot invest in conventional office space or in a serviced office. The typical occupier profile includes young professionals involved in sectors like creative industries, ICT, software development, online marketing, PR, graphic design, architecture, and journalism.
Shared Office Space Locations in London
There are currently more than 100 coworking spaces offering shared office space all over London. The most in-demand locations include:
Typical Costs and Budgeting Considerations
All-inclusive membership schemes are usually calculated over a 12-month period and are charged upfront on an annual basis. Otherwise, shared office space is priced per workstation or desk space and fees are based on usage levels (hourly, weekly, monthly, etc.). According to a June 2016 SpareOffice report, the average cost of coworking space in London is £357 / person / month.
Across the city, monthly costs range from £300-£500 / month for a dedicated desk and unlimited access to the venue's facilities. The lowest rates apply to 12-month contracts, whereas a premium is usually applied to one-off use or short-term contracts.
The priciest shared space (over £1,500 / month for annual membership) is in the West End, and especially in Fitzrovia and Mayfair. On the other hand, shared space within the E2 postcode can be found for as little as £200 / month for a permanent desk. In the City, all-inclusive rates average £600-£700.
Hot desking is an alternative form of shared space, and rates are lower since desks are not allocated to specific users. Hot desk rates go from £200 to £400+ / desk / year.
When budgeting for shared office space, it is worth enquiring about rent-free periods or any other discounts that may be available. These are usually offered for contracts of at least 3 months. Discounted rates may also be available to first-time business owners and students.
Other Considerations
First-time business owners and entrepreneurs in certain sectors may benefit from additional support services, such as mentoring, drop-in sessions with potential investors, training courses, and workshops. These may be available at some of the biggest shared space operators in the city.
Since shared office space has a strong focus on helping build close-knit business communities, it is also worth considering choosing a coworking space that specialises or attracts businesses from certain industry sectors, as this can vastly maximise the chances of broadening your network of professional contacts. For example, spaces like Google Campus TechHub, Rainmaking Loft, or The Trampery are popular with tech professionals, whereas 90 Mainyard or TechSpace are best suited for creative startups. For more information on specialised coworking spaces in London, visit this website.
More articles from the Office Solutions Section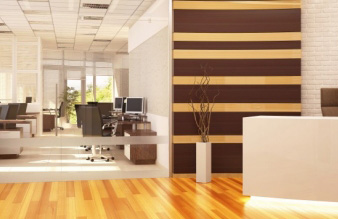 Conventional Office Space
Traditional office space is a good option for businesses with at least 100 employees and, across London, conventional office space is typically favoured by corporates.
Facilitates branding and advertising.
Potentially lower rates or discounts, especially whenever longer leases are agreed.
Flexibility and control over the premises' appearance, layout, and space management.
Only pay for the amount of space used.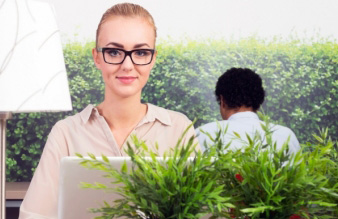 Hot Desking
Along with global entrepreneurial hubs like San Francisco, New York, or Singapore, London is considered one of the best locations in terms of the hot desking options available in the city.
Fosters sharing and collaboration.
Encourages creativity.
Expands professional networks.
Provides staff with freedom and flexibility.
Hourly, daily, weekly or longer packages.
Cost effective.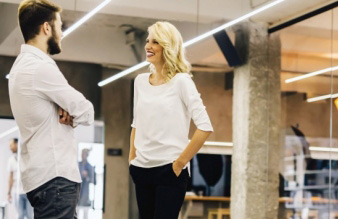 Managed Office Space
Managed or semi-serviced offices are a convenient office solution that suit the needs of business owners who don't want to commit to a conventional office lease but don't want to go down the serviced office route either.
Non-branded buildings.
Flexible licence agreements with easy in-out and renewal terms.
Move in within 3 months of lease-signing.
Credit checks are not usually necessary.
Total personalisation of office space.