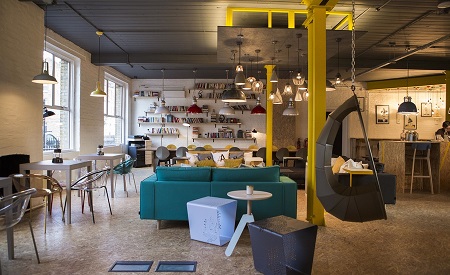 Over the past few years, London has emerged as the world's capital of co-working. The five-year trend shows that 900,000 square feet of co-working spare (approximately 8 per cent of all new office space in London) are added or taken up in the city every year. Currently, it is estimated that London is home to 156 co-working spaces, and this figure is expected to grow exponentially in the coming years in a reflection of the how quickly the sharing economy gaining traction all over the business world.
Co-working space in London is not only the office accommodation of choice for start-ups, remote workers or freelancers, but it also appeals to large companies and corporates based in the City. KPGM, Microsoft, HSBC, Cisco, and Menlo Innovation are some of the blue-chip firms that currently use co-working space in the city.
Whether they are one-person start-ups or large corporates, co-working space occupiers are often attracted by the perks that this type of accommodation offers. These go beyond a strong entrepreneurial and collaborative spirit and a working environment specifically designed to foster creativity, and include flexibility, all-round support, spaces that foster a healthy work-life balance, and a strong sense of community.
Focus on flexibility and support
In co-working spaces, flexibility is not only evident in the terms of rental agreements, but also in space distribution, as some of these offices are arranged in open plan but also provide private working areas in work pods, or dedicated Skype booths used to conduct private meetings online. And lately, some co-working offices have even implemented a pet-friendly policy.
In terms of support, some of the top perks include:
– Free or discounted use of meeting rooms
– Free tickets to events focusing on entrepreneurial growth, such as those offered to members of Innovation Warehouse, which also offers access to its own incubator and accelerator Continue reading "The Ultimate Co-Working Space Perks In London" →