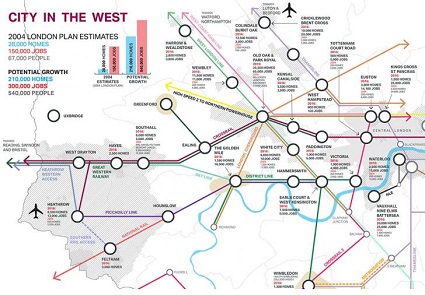 In the autumn of 2015, the former mayor of London Boris Johnson announced an ambitious urban development plan for the British capital. The project (which in fact consists of two different but interrelated plans known as City in the East and City in the West) aims to create a more balanced distribution of economic and commercial power within the UK's capital city.
Over the past decade, development plans in West London have been somehow overlooked, since most of the work has been directed at transforming East London and getting this area ready for the Olympics. The City in the West Plan was created to address this situation and to help tap into the potential of West London and turn it into one of the most desirable places to live and work.
City in the West: Overview and Key Figures
City in the West is a joint initiative supported by the Greater London Authority, Transport for London, local councils in west and south west London, and various public and private sector investors. One of the key objectives of the City in the West plan is to consolidate a number of local planning and development projects, such as the Western Wedge or the Western Access Corridor. Other important objectives include the delivery of substantial infrastructure improvements, the creation of jobs, and the construction of quality and affordable housing.
This plan could be considered as an ambitious extension of the London Plan. Whereas the 2004 London Plan contemplated the creation of 150,000 jobs in West London, the new plan sets its estimates at 300,000 jobs. Housing creation estimates have also been re-evaluated, going from 30,000 homes according to the 2004 plan to approximately 210,000. All in all, the Greater London Authority expects that more than 600,000 Londoners will directly or indirectly benefit from the new developments brought about by this plan.
Locations and Scope
The City in the West plan will be implemented across several Opportunity and Intensification Areas. Housing Zones have also been designated in boroughs located to the west and south west of central London. Key locations include: Continue reading "City in the West – London Plan" →