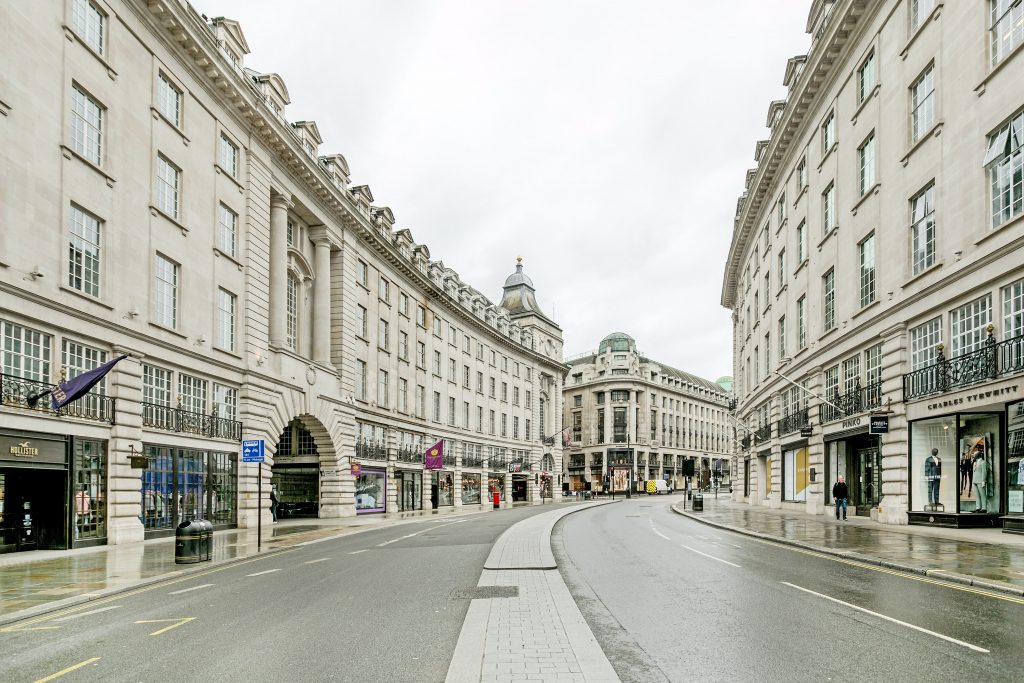 The West End is one of London's prime areas for commercial real estate. This market has also been one of the most severely affected due to pandemic-related restrictions, which were felt sharply in addition to the uncertainty created by Brexit.
At the start of 2021, the general situation in the West End was marked by a 91% increase in availability compared to the previous year's figures. More than 7 million square feet of office space were available in Q1 2021. Vacancy rates for the whole of West London were estimated at just over 8% in early 2021, which is double the rate of the Q1 2020 figure.
Both factors combined led to a slight decrease in prime headline rents, which were calculated at an average of £110 per square foot in Q1 2021. The downward trend in rental values is expected to continue into 2022 with a rent decline forecast between 7.5% and 12.5%.
The majority of deals that recently took place in this market came from the professional services sector and involved small offices of 5,000 sq ft and under. On the whole, occupiers still hesitate to commit to large spaces and/or long leases.
What follows is an area-by-area update on the state of West End offices during 2021:
Bloomsbury
Bloomsbury is part of the Midtown West sub-market. The area had been experiencing a boom in activity since the mid 2010s and especially since the announcement of the London Crossrail project, but activity has significantly slowed down since the start of the COVID-19 pandemic in 2020.
However, during summer 2021, Bloomsbury witnessed a rebound in activity, particularly around Euston Road and University College London. The Knowledge Quarter area is expected to hold up steady thanks to the weight of current occupiers in education, culture, and R&D.
Average rental values are up to £90 per square foot for new Grade A offices and £45 per square foot for Grade B space.
Hammersmith
This is an established commercial area densely populated with office and retail premises. In particular, Hammersmith has a strong presence of media and entertainment companies. It's also one of the most sought-after areas for satellite office space.
Average rental rates are in the mid £50s per square foot for Grade A offices, and £35 to £45 per square foot for second-hand space.
Mayfair
Mayfair is an exclusive commercial real estate market and has a strong occupier base consisting of legal, financial, property management, and corporate headquarters.
The area has been able to remain desirable throughout the pandemic, as evidenced by the high rental rates its offices still command. Office space in primary Mayfair locations average £140 per square foot, and secondary space comes in at £100 per square foot.
However, high prices and economic uncertainty have brought take up rates own by nearly 60% compared to the previous year. In early 2021, vacancy rates were just under 6%.
Paddington
Paddington benefits from its proximity to a large transportation hub and has a reputation for offering an innovative business environment. Financial, retail, and tech companies have moved operations to the area as an alternative to Tech City and the Silicon Roundabout.
The main event in this market was a large increase in availability that reached nearly 18% in late 2020. Vacancies are still at a reasonable level of 4%, however, due to the amount of surplus space coming into the market, they're likely to increase further by the end of 2021.
Average rents go from £55 to £80 per square foot for Grade A space (new and refurbished), and start at £42 for Grade B offices.
Soho
Soho is home to a broad range of office-based businesses, although media and tech companies are the largest occupier segment. The area has been described as a resilient market, as it was able to keep vacancy rates at around 4% for most of 2020.
In the spring of 2021, this figure had doubled to over 8%, and Soho emerged as the West End sub-market with the largest amount of available space.
Soho rents also some of the highest in this part of London, with some Grade A offices costing £110 per square foot.
Westminster
Part of the South West End market, Westminster enjoys a central location and excellent connectivity links with other parts of the city. The area is one of the largest employment hubs and London, with many office-based jobs in the public sector, finance, and professional business services.
In Q2 2021, average office rents in the Westminster-Victoria area ranged between £72 and £85 per square foot for new or refitted Grade A space.