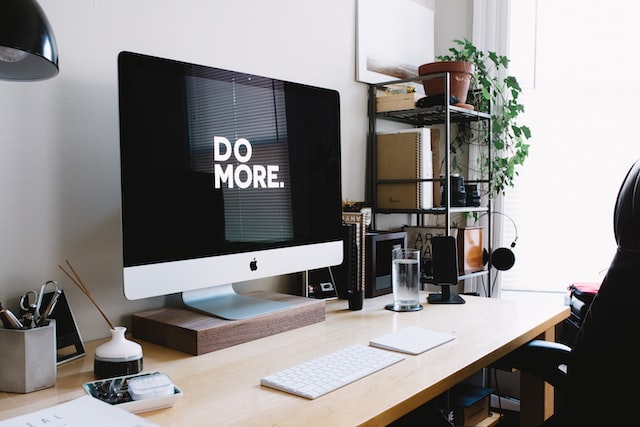 If you're looking for a way to spice up your desk decor, you've come to the right place! In this blog post, we will share some of the best desk decor ideas that are both stylish and eye-catching. Whether you're looking for a new way to organise your desk or simply want to add a little bit of personality to your workstation, these desk decor ideas are sure to inspire you.
The best part about these ideas is that they can be applied to both home workspaces and traditional office desk spaces, making them perfect for busy professionals splitting their time between remote and in-person work. So what are you waiting for? Get ready to take your desk decor to the next level!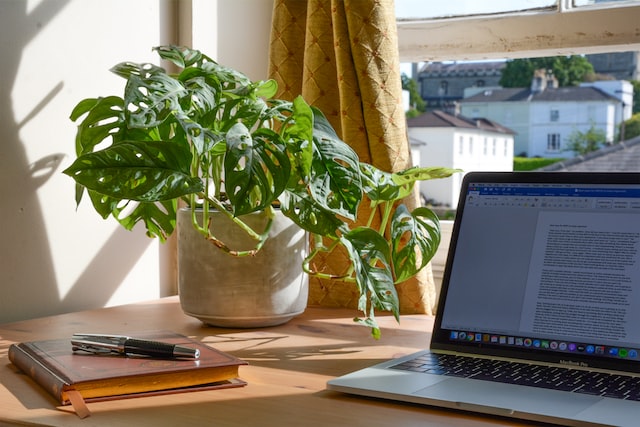 Add Plants to Your Desk for a Pop of Colour & Freshness
If you're looking for a desk decor idea that will add both colour and freshness to your workspace, consider adding plants to your workspace. Plants can help to purify air quality and provide a calming presence, making them ideal for both home and office settings. If you don't have a green thumb, don't worry – there are plenty of low-maintenance options that are easy to care for. When selecting plants for your desk, be sure to choose varieties that thrive in indirect sunlight and have low water needs. Some of the best options include cacti, snake plants, succulents, and air plants. Once you've found the perfect plant, simply choose a stylish pot to house it in. If you don't have a lot of desk space, then consider hanging plants off the side of your desk or close to nearby windowsills. People working from home can also benefit from growing fresh flowers in their backyard and swapping them out to ensure they're constantly keeping their desk new and exciting. With a little bit of love and care, your desk plant will soon become an eye-catching addition to your workspace.
Use Desk Organisers to Keep Your Workstation Neat & Tidy
Desks are personal spaces where we can be creative, productive, expressive, and efficient. However, a messy desk can very quickly become a source of frustration. One way to avoid desk clutter is to use desk organisers. By using trays and drawers to organise pens, paper, and other office supplies, you can keep your desk neat and tidy. Not only will this help you to stay focused and organised, it will also work to create an attractive and eye-catching workspace when done properly. In addition, using desk organisers can also help to reduce stress levels. A cluttered desk can be overwhelming and cause us to feel like we are not in control of our lives. But by taking the time to organise our desks, we can feel more calm and relaxed, knowing that everything has its own place. So if you are looking for a way to boost your productivity and reduce stress, try using desk organisers. You may be surprised at how much of a difference it makes.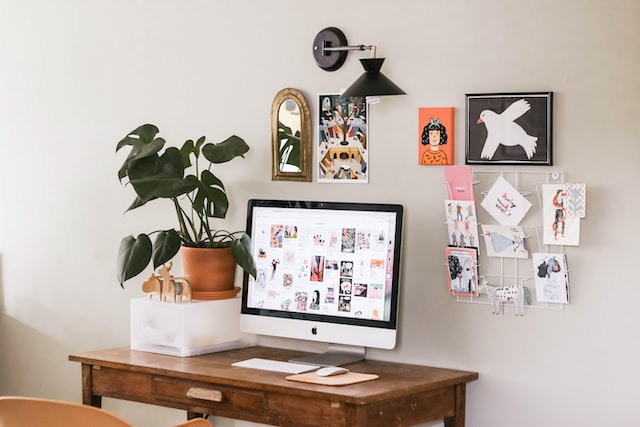 Hang Artwork or Framed Photos on Your Walls to Add a Personal Touch
A desk is a personal space, so it's important to make it your own. One easy way to do this is to hang artwork or framed photos on the surrounding walls. This will add a personal touch to your workspace and help you feel more comfortable. If you're not sure where to start, try hanging a few pieces that inspire you or make you happy. This could be a picture of a goal to aspire to, a memory of a good time, or even some artwork made by your children. You can also use artwork or photos to express your personality and show off your interests. For example, if you're a big fan of travel, you could hang photos of all the different places you've been. The possibilities are endless! So get creative and make your desk into a space that truly reflects who you are.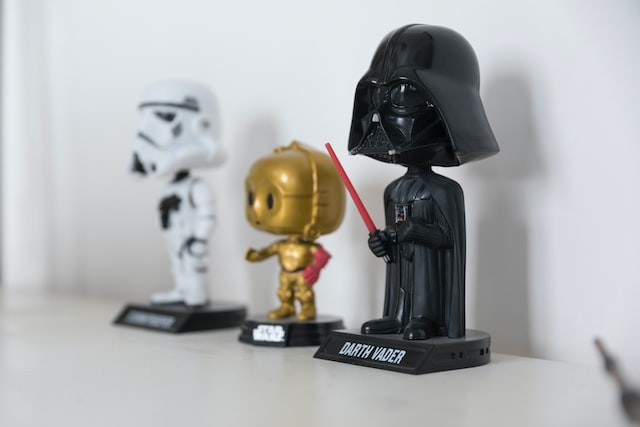 Display Collections of Ornaments or Other Small Items on Your Desk Space
Displaying your collections is another great way to level up your desk decor and add your own personal flair. If you have a passion for a particular subject, consider displaying a small collection of items related to that topic. For example, if you love books, you could display a few of your favourite titles by keeping a stack of well-read books on your desk. Or if you're a sports buff, you could showcase a few decorative pieces of memorabilia or a bobble head of your favourite player. The sky's the limit when it comes to collecting, so choose items that reflect your interests and personality. Small collections are also easy to change up on a whim, so don't be afraid to experiment until you find the perfect arrangement. You can also utilise stationary and other functional pieces to contribute to an overall colour scheme. Making accessories like your mouse pad or keyboard predominantly feature vibrant colours is a great way to draw the eye and set a tone. Desk decor should be fun, so use it as an opportunity to capitalise on different themes and show off to colleagues or clients!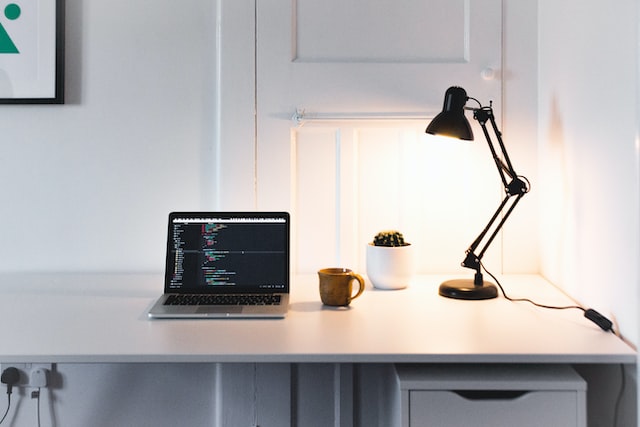 Use Desk Lamps to Create a Cosy Atmosphere
The right lighting can make a big difference in setting the tone for a productive day. A high-quality desk lamp is a great way to add both style and function to your desk decor. Great lighting doesn't have to be expensive; even simple, inexpensive lamps can make a big impact. Try using two or three lamps to create a cosy, inviting atmosphere. Be sure to position the lamps so that they provide good task lighting without being too glaring. You can also experiment with different types of globes or LED lighting colours to create a different mood depending on the situation. With the right lighting, your workspace will be both stylish and functional, whilst also making you feel happier and more energised.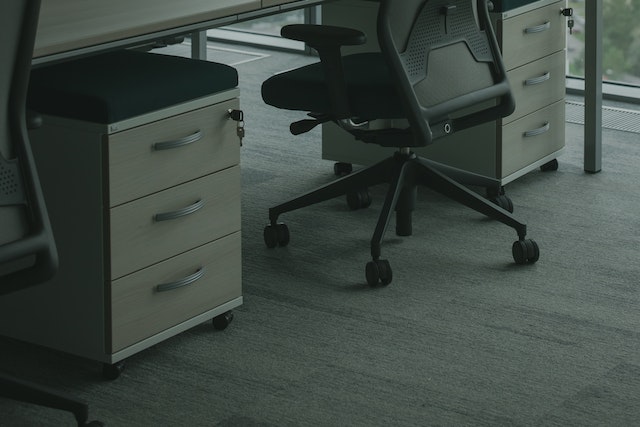 Invest in a Comfortable Chair or Stool
Cultivating an eye-catching desk space doesn't simply stop at the decor items that you place on the desk itself. Any long-term professional will tell you about the importance of a high-quality desk chair, something that more often than not can serve as a make or break factor in any workspace. Outside of ensuring that you make your space comfortable, you should also look to choose a seat that reflects your style. For example, if you prefer a more traditional look, you might opt for a leather armchair. Or, if you're looking for something more modern, a brightly-coloured stool might be a perfect choice. Depending on how much space you have available, additional seating – such as an elegant chaise – could be the perfect addition to your desk decor. No matter what your style, adding a comfortable chair or stool to your desk can help create an eye-catching workspace that reflects your personality.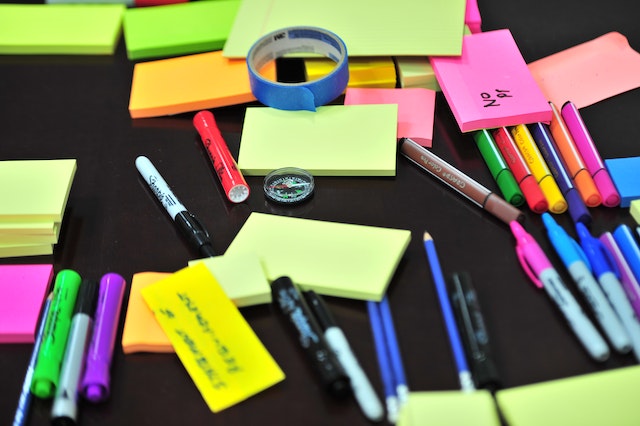 Use Colourful Pens & Paper to Add Even More Vibrancy to Your Workspace
Your workspace is where you spend the majority of your day, so why not make it a place that encourages creativity and productivity? One way to do this is by adding a pop of personality with colourful pens and paper. Not only will this brighten up your desk, but colour-coding or highlighting your work can also help to spark new ideas and allow you to approach tasks with a fresh perspective. In addition, using colourful pens and paper can also help to boost your mood and energy levels. Next time you're feeling stuck in a rut, try reaching for a vibrant pen or piece of paper, you may be surprised at the difference it makes!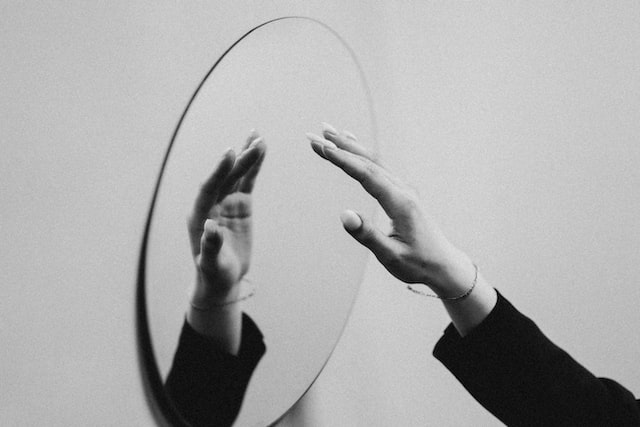 Add a Mirror
Often the focal point of any workspace, desks can often come across as boring and small, particularly when cluttered. Adding a mirror to the wall above your desk can help to create a more inviting and stylish space. Not only will the mirror reflect light and make the room appear brighter, but it will also give the illusion of more space. Additionally, a mirror can be used to help you check your appearance before heading out for an important meeting or joining a video call. By considering these factors, it's easy to see why adding a mirror to your desk area is considered a great decorating idea.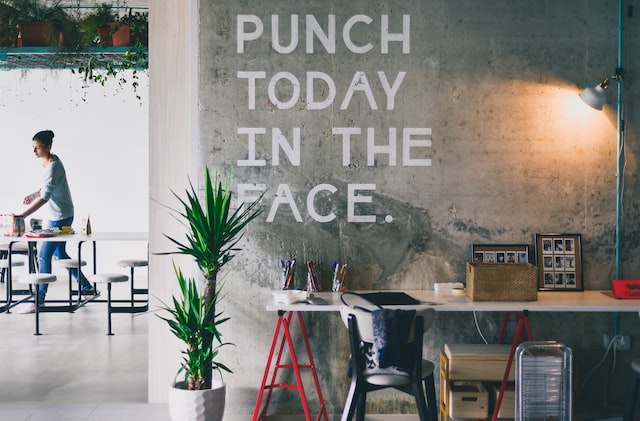 Use Inspiring Quotes as Wall Art
One of the most popular desk decoration ideas is the use of quotes as wall art. Words of affirmation or wise teachings often provide motivation and inspiration, especially when they're prominently displayed. Quotes can also be an excellent conversation starter, providing the spark for personal and professional interactions, whilst also eliciting emotions within the reader. Displaying personally meaningful quotes near your desk is also a great way to demonstrate your personality, providing colleagues with an indication of your interests and setting the tone for collaboration. These types of quotes can be displayed in a variety of ways, from simple printed pieces of paper to eye-catching neon signs. If you're looking to psych yourself up for important meetings or set the tone for the day as soon as you walk into the office, displaying inspiring quotes is the way to go.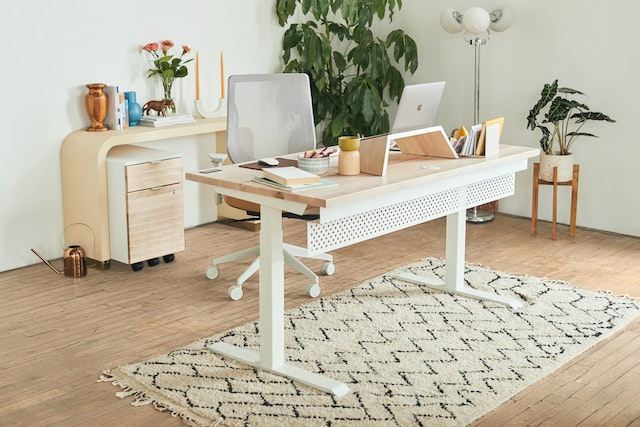 Place a Rug Under Your Desk to Add Comfort & Style
If you spend a lot of time at a desk, you know that comfort is important. A good chair goes a long way, but there are numerous other ways to make your workspace more comfortable. Adding a rug undoubtedly helps to create a cosy and inviting space. Not only will it make your office feel more like home, but it can also help to reduce noise and add some extra warmth on chilly days. Plus, with so many different styles to choose from, it's easy to find a rug that fits your unique aesthetic. So if you're looking for a way to add some extra comfort and style to your office, consider placing a rug under your desk. You might be surprised at how big of a difference it makes.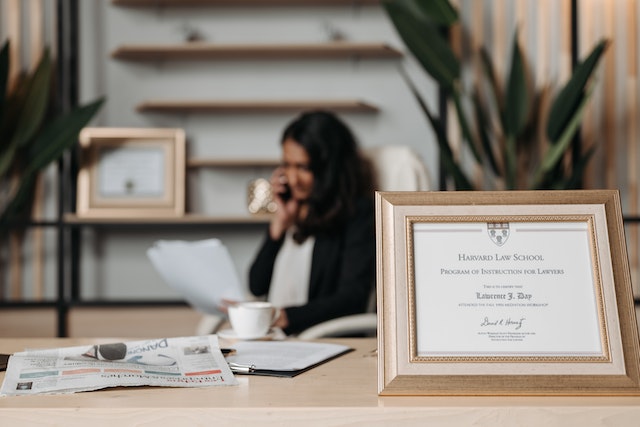 Prominently Display Your Awards, Degrees, or Other Accomplishments
Any ambitious professional will tell you that it's important to put your best foot forward in the workplace. Whether you are vying for a promotion or simply trying to make a good impression on your boss, it is crucial to show that you are a high-achiever. One of the best ways to do this is to display your awards, degrees, and other accomplishments prominently around your workspace. By doing so, you will not only be reminding yourself of your successes, but you will also be reminding your colleagues and superiors of your accomplishments. If you're working from home, try to make sure that at least some of your accomplishments are visible during video calls – without going overboard and coming across like you're bragging.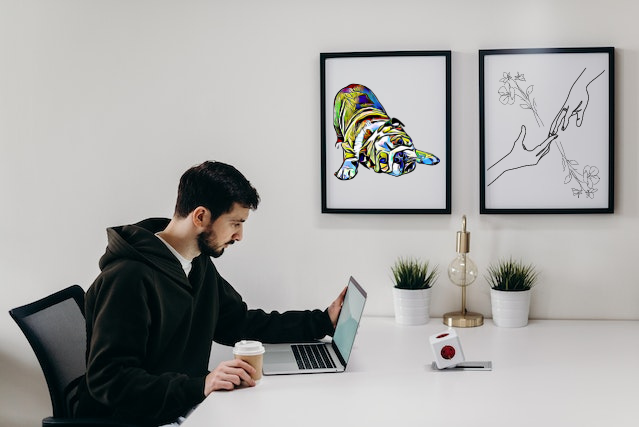 Hang a Poster or Tapestry on the Wall Behind Your Desk to Provide Personality & Inspiration
When you walk into a room, the walls are often the first thing you notice. They provide a blank canvas for you to express your personal style and create an inviting space. If you're looking for a way to add some personality to your workspace, consider hanging a poster or tapestry on the wall behind your desk. Not only will this provide inspiration and motivation, but it will also help to create a more relaxed and comfortable atmosphere. In addition, a poster or tapestry can help to reduce distractions and provide visual interest. Whether you choose to display an abstract design, an iconic film scene, or a beautiful landscape, adding a touch of imagery to your workspace is a great way to boost your productivity and creativity. Like many of the other ideas mentioned previously, posters and tapestries can also significantly contribute to your desk's overall colour palette.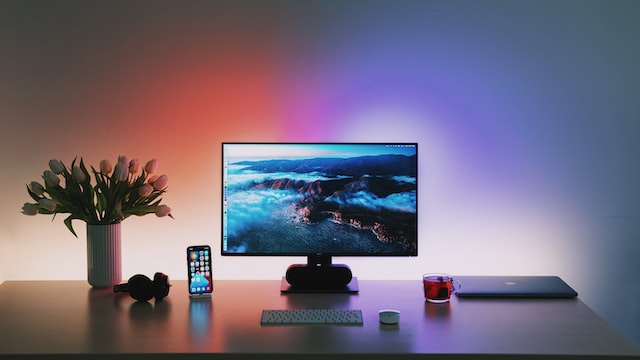 Decorate Your Computer Screen with Desktop Wallpapers & Screensavers to Reflect Your Personality
In today's digital workplace, more and more of our personality is expressed through the screens that we stare at all day. Whether it's the photos we post on social media or the way we customise our computer desktop, the things we surround ourselves with can say a lot about who we are. That's why decorating your computer screen with desktop wallpapers and screensavers is a great idea to bolster your desk decor. By carefully cultivating images that reflect your interests and values, you can create a visual space that feels uniquely yours. Considering the time that many professionals spend at their computers, it's nice to be able to look at something that brings us a sense of joy or calm.
Looking for more content? 
For more deep dives into office design, market trends, and general workplace statistics, you can visit the articles below. Additionally, you can view our full range of serviced offices and coworking spaces or, alternatively, call one of our London commercial property experts on 020 3965 9617.
Average Salary in the City of London
The Best Business Parks in London
Digital Transformation Across Industries: From Banking to Retail
Central London Office Market Report Q2 2022
The 10 Workplace Trends Defining 2022 So Far
Iconic and Influential Office Spaces in London
Do Employees Feel Supported by Their Managers After the Pandemic? (2022 Poll)
UK Office Workers Polled: Characteristics of a Good Manager
London Office Market Sees Highest Level of Occupier Activity Since Before the Pandemic
How to Deal with the Stress of Returning to the Office after a Long Layoff
10 Ways to Improve Office Moral
An Overview of Coworking Spaces in London