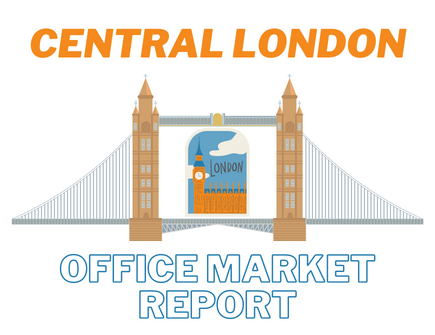 Central London Market Overview
Over the past few years, most major UK office markets have witnessed an occupier flight to quality. The priority seen when it comes to the leasing and acquisition of high quality office space is understandable, particularly when you consider the volatility and uncertainty that dominated the global commercial real estate market in recent times. As a wide range of businesses, particularly SMEs, continue to be unsure about whether or not in-person working will return to prior prominence. This reality makes putting pen to paper especially difficult, as physical occupancy levels remain difficult to gauge and physical spaces become harder to justify.
A flight to quality makes sound investment sense in a volatile market, largely due to high-end assets tending to at least retain their value during periods of uncertainty. Additionally, large firms with a heavy investment in the smooth transition back to the office, both in terms of time and money, have sought to secure quality space to attract their workforces back in a physical capacity.  
This priority for tenancy in Grade A office space has been extremely clear in London for a number of years, resoundingly consolidating itself during the pandemic and continuing to show no signs of abating. 
So, how exactly is the Central London office market faring after years of upheaval? In this Central London office market report, we take a look at the most current industry data, explore ramifications of this data, and predict where currently observed trends will lead us.
The data we've compiled comes from research and reports done by reliable sources including Knight Frank, CBRE, Avison Young, and Jones Lang LaSalle.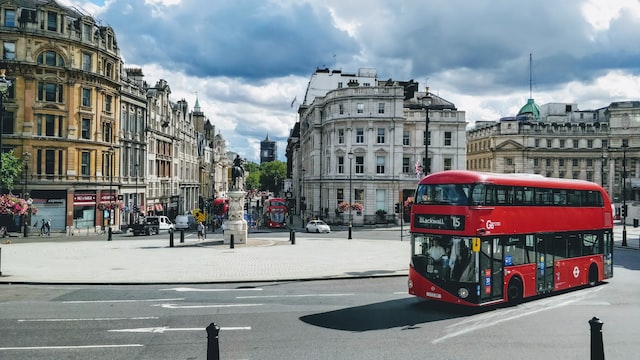 Central London Office Space – Q2 2022 At a Glance
Total Take-Up Levels

– 2.5 million sq/ft

(21% higher than the 10-year quarterly average, and the market's strongest Q2 since 2018)

Vacancy Rates –

7.3%

(0.1% higher than Q1)

Availability –

20.40 million sq/ft

Office space under construction –

15.14 million sq/ft
The Top Tenancy Sectors in Central London's Office Market
Professional Services

– 34%

Business Services –

19%

Financial Services –

11%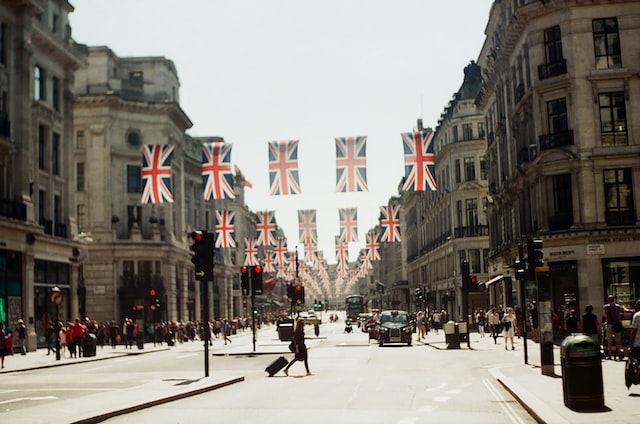 Market Conditions in Central London Offices
Pre-pandemic, the supply of quality office space in Central London was already leaning towards scarcity. Due to the limited availability of quality units, newly built office space was quickly absorbed soon after being released. In many cases, new inventory was pre-let well before being delivered. High pre-letting rates had been signalled as an important trend since at least 2018. Over a ten-year period, pre-letting accounted for more than 20% of all office transactions in Central London.
Take-up rates and construction activity stalled during the height of the pandemic, reaching historical lows in typically dynamic markets like Central London. However, even under struggling market conditions, pre-letting activity continued and, in some areas, even doubled. Pre-let activity was particularly high for offices with asking rates above the area's average.
Currently pre-leases are being signed two years ahead of project completion. This provides positive signs that interest in top-quality office space isn't being eroded by the rise of hybrid and remote working arrangements.
Due to robust leasing activity in Central London, the total amount of space that was on the market at the end of June 2022 sat at 2.9 million sq/ft, a 9% quarter-over-quarter decrease. Despite the decline, under offer volumes were 12% higher than the 10-year quarterly average of 2.6 million sq/ft and 7% more than the same period in 2021 (2.3 million sq/ft). Seven spaces larger than 50,000 sq/ft were on the market at the end of June, all of which were found in the City of London submarkets.
During Q2 2022, active demand decreased to slightly over 7.8 million sq/ft, as a number of demands were met without being replaced by new activity. While some requirements were put on hold as occupiers assessed the effects of the economic challenges, potential demand climbed throughout the quarter to 3.5 million sq/ft. In terms of floor space, 28% was occupied by banking and financial companies, closely followed by professional services at 27% and TMT (Tech, Media and Telecoms) with 20%.
Total supply held steady at 19.6 million sq/ft, translating to an overall vacancy rate of 7.8%, which was still higher than the long-term average of 5.3%. A 1.4% vacancy rate was reflected in the 3.3 million sq/ft of new construction supply. This new build vacancy was slightly higher than the 10-year quarterly average of 1.1%.
Tenant-controlled supply, which has contributed significantly to the recent rise in vacancy, decreased for the fifth consecutive quarter at the end of June, reaching 5.1 million sq/ft, or 26% of total supply.
During the second quarter of 2022, there were 717,000 sq/ft in total completions, of which 70% were pre-committed, leaving only 215,000 sq/ft of speculative new supply. 131 Great Suffolk Street, SE1 (64,000 sq/ft) was the largest speculative project to be finished during the quarter. It was followed by 10-14 White Lion Street, N1, which offers 55,000 sq/ft of usable office space.
At the end of June, there was 11.3 million sq/ft of speculative space under development, up for the second consecutive quarter thanks to an additional 1.4 million sq/ft of speculative starts. Panorama St Paul's, located at 81 Newgate Street, will be the largest project to begin and provide 520,000 sq/ft of BREEAM Outstanding-rated office space when finished in 2025.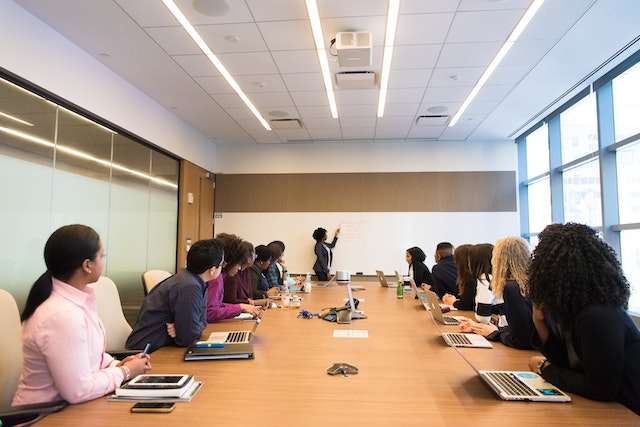 Take-Up
In Q2, there was a strong leasing demand for offices in Central London, resulting in 3.8 million sq/ft of new take-up, the highest quarterly volume since Q4 2018. For the second quarter following the pandemic, total take-up was above average, increasing 24% over the 10-year average level and exceeding the Q2 2021 total (+123%). Transaction volume has returned to trend after falling 47-67% below normal levels during the height of pandemic restrictions.
Eleven transactions of more than 50,000 sq/ft were made, ten of which were pre-lets for development space, illustrating the market's flight to quality. Following the 1.4 million sq/ft deal, Q2 was an especially successful quarter for pre-letting. 1.9 million sq/ft of new and pre-let space were taken up in total, accounting for 49% of the market.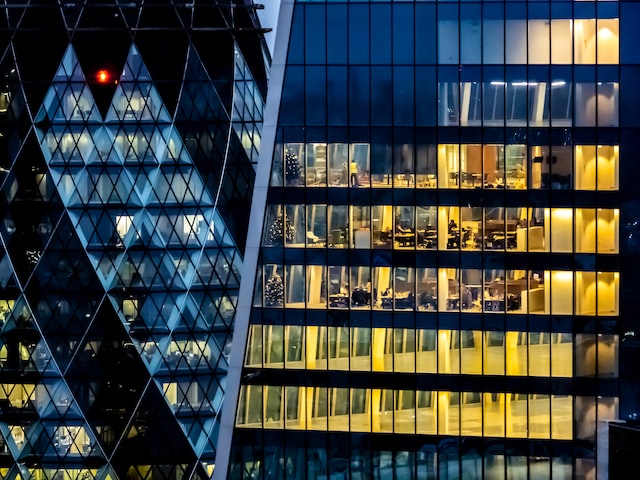 Availability
Central London's availability dropped during the second quarter to a low not seen since Q4 2020, 24.2 million sq/ft. Even so, supply was still significant compared to the market's long-term quarterly average of 15.8 million sq/ft.
The decrease in second-hand supply, which now accounts for 16.5 million sq/ft across Central London or 68% of the total space available, contributed to the drop in availability by subtracting 1.4 million sq/ft (8%) from the market. Despite not being close to the peak of 19.3 million sq/ft seen in Q1 2021, second hand supply in Q2 2022 still remains above long-term trends.
While new early marketed availability (which is not yet ready to occupy, but will become so within 12 months) increased as new developments moved within 12 months of completion, the availability of recently completed supply declined by 4% to 3.3 million sq/ft. At the conclusion of Q2, there were just five premises in Central London with more than 100,000 sq/ft of recently finished, usable space.
Along with availability, the Central London vacancy rate fell in Q2, reaching 8.2% in June (down from 8.8% at the end of the previous quarter).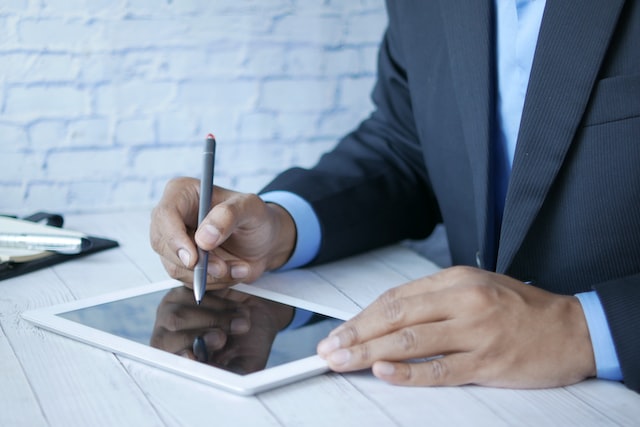 Investments
Investment volume in Central London totalled £2.6 billion in Q2 2022, down 53% from a record-setting first quarter. Despite this significant drop, coupled with the fact that Q2 investment sat below the £3.7 billion quarterly average over the previous ten quarters, the first half of 2022 saw the highest revenue since 2007.
There were eight deals of more than £100 million in Q2. Despite continuing below the long-term average, possibly as a result of ongoing travel restrictions, international investment dominated, accounting for 72% of all stock purchases. Foreign buyers made up 71% of all investors in the 12 months leading up to Q2, with Asian and European buyers making up 32% and 12% of the total respectively. £4.0 billion in transactions, or 29% of the total, were made by domestic investors in the last year.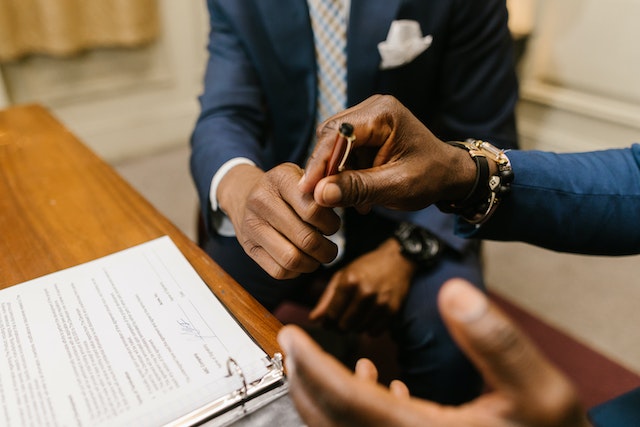 Office Spaces Under Offer
Following the closing of several sizable transactions, office spaces under offer decreased by 7% in Q2 to 4.3 million sq/ft, however, continued to be significantly higher than the 10-year average level of 3.4 million square feet for the fourth consecutive quarter.
Seven units totalling more than 100,000 sq/ft were up for sale in Central London, with Lansdowne House offering Blackstone 232,000 sq/ft.
Further highlighting the occupier preference for brand-new, high-quality offices, four of the top five spaces under offer were either newly constructed or currently undergoing construction.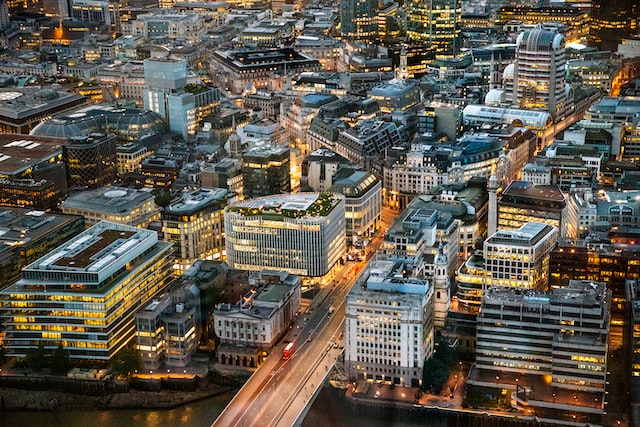 Will Flight to Quality Create a Two-Tier Market for Office Space in Central London?
Central London offices could soon evolve into a two-tier market, especially if current factors affecting occupier decision-making remain vital. Increasingly, we're seeing prospective and existing tenants place emphasis on the quality and quantity of amenities, top-tier designs, wellness spaces, high sustainability ratings and the environmental, social, and governance (ESG) commitments made by office spaces.
Rental growth is another area in which the market is clearly diverging in opposite directions, a trend that has been evident since the global financial crisis of close to 15 years ago. Even back in 2008, rental growth rates were markedly different between high quality and poor quality office spaces.
A CBRE report suggests that a two-tier rental rate structure could continue into the near future. This report estimates that, at least for the next 4 years, a quarter of the best Central London office spaces will experience positive rental growth rates of 7%, whereas growth rates for the bottom quarter will continue to decline.
Lastly, pre-let data also suggest that we're likely to see a consolidation of a two-tier market. 2021 pre-lettings data suggest that 17% of all new office developments scheduled to be completed in the next five years are already pre-let. From all this, we can infer that the flight to quality in Central London isn't set to stop anytime soon.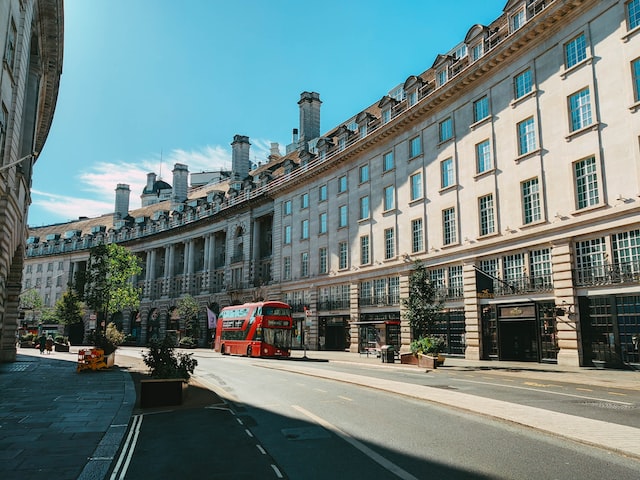 London Office Market Insights, by Submarket
West London Office Market
Key takeaways for Q2 2022
Large deals have boosted take-up
Total Take-Up Levels

– 787,723 sq/ft

(

26% higher

than the 10-year quarterly average)

Vacancy Rates –

4.2%

Grade A Average Rents

– £118 per sq/ft
Over 787,720 sq/ft were taken up during Q2 in the West London and West End markets, which is 26% above the 10-year quarterly average. This was aided by substantial uptake in Paddington, where Capital Group signed on for 75,452 sq/ft in the Brunel Building and now occupies 225,000 sq/ft in the brand-new Paddington Square. The Paddington area accounted for 42.2% of all deals during the quarter.
Thanks to Capital Group's 225,000 sq/ft occupation at Paddington Square, which made up 29% of all sales, financial services reign as the largest occupant this quarter. Professional services, TMT & creative, and consumer/private services were also active in Q2, taking up a combined total of more than 100,000 sq/ft.
Due to the core West End markets, availability in West London significantly decreased from 6.2 million sq/ft in Q1 to 5.6 million sq/ft this quarter. As a result, the vacancy rate has dropped considerably from 5.6% to 4.2% quarter over quarter. Prime Grade A stock is in high demand, and there is a supply shortage, continuing the pattern seen across all submarkets. In fact, 76% of all available space in the West End & West London marketplaces consists of Grade B stock.
Since Q1, the West London rental index has been stable. In contrast, the West End rental index increased by 4.6%. This trend of increasing rents was mostly driven by Fitzrovia and Soho, with the former increasing from £92.50 to £95 and the latter from £97.50 to £100. Marylebone has similarly followed this pattern, raising its top rent from £90 to £95 per sq/ft.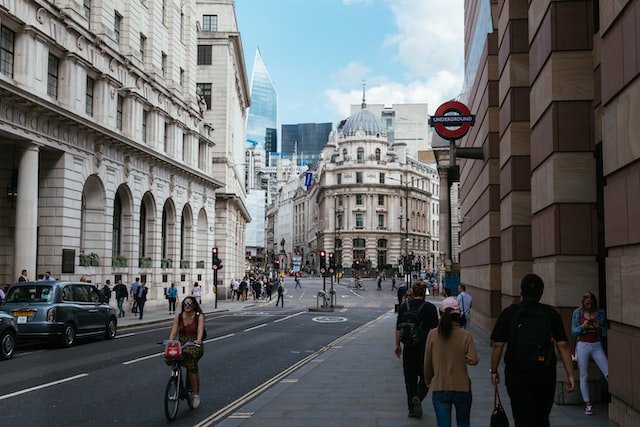 The City Office Market
Key takeaways for Q2 2022
Professional Services lead in take-up
Total Take-Up Levels

– 961,581 sq/ft

(9% higher than the 10-year quarterly average)

Vacancy Rates –

9.2%

Grade A Average Rents –

£75 per sq/ft
The City's total take-up for Q2 was just over 961,500 sq/ft, an astounding 8.5% more than the same period last year. This is notable for being almost three times more than Q2 2021, which reflects this market's regaining confidence following the pandemic.
215,000 sq/ft of space being leased to Kirkland & Ellis at 40 Leadenhall, EC3, was a major factor in the volume of activity. This deal marked the third consecutive quarter in which an international law firm signed one of the largest deals in the City submarket. Hogan Lovells signed on 266,000 sq/ft at 18-20 Holborn Viaduct, EC1 last quarter.
After 15 acquisitions closed in Q2, professional services continued to be the dominant industry in The City, accounting for nearly half of total take-up.
With Chubb's letting of 85,000 sq/ft at 40 Leadenhall, EC3 – the most significant of 11 deals that account for an extra 38% of total take-up – business services held the next-largest proportion of deals
Vacancy rates, on the other hand, have gone up from 8.8% in Q1 to 9.2% in Q2, returning to levels seen in Q4 2021. Prime rents have been steady at an average rate of £76.25 per sq/ft, a modest rise over the previous quarter. This demonstrates continued confidence in the state of the market and the future direction for top tier space.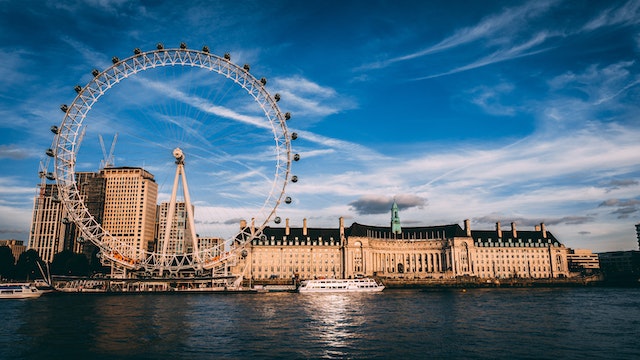 South Bank Office Market
Key takeaways for Q2 2022
It's been another calm quarter on the South Bank, closely resembling the beginning of the year. We are still seeing much lower lease volumes when compared to the usual activity in this area over the past ten years, with take up of 124,046 sq/ft and only 10 agreements completed.
Despite the fact that total take up levels nearly doubled since Q1 and agreements increased twofold, current demand still fails to match levels observed in the past for the South Bank area. In addition the typical deal size did not change, remaining at 12,405 sq/ft since 2022 began.
The biggest deal involved SharkNinja, who committed to 25,000 sq/ft at Battersea Power Station, SW8. It should be noted that, rather than being used for traditional office purposes, about half of this space will be devoted to engineering labs. In addition, One Embassy Gardens leased 14,690 sq/ft to Marie Curie Ltd. The most active tenant sectors in South Bank were TMT & creative and professional services, standing as a noteworthy contrast to Q1, which was dominated by the financial services industry.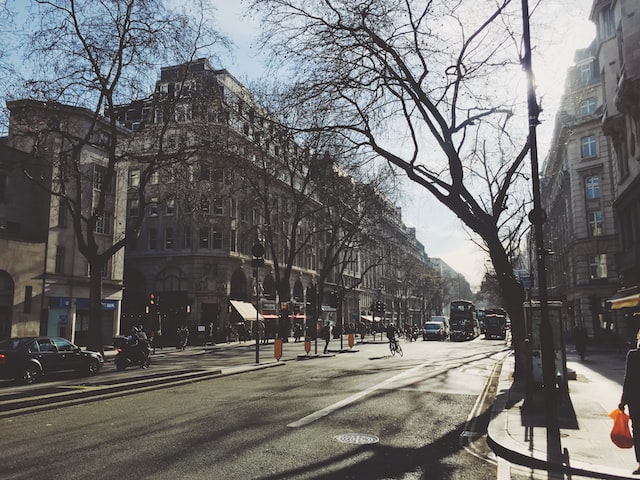 Midtown Office Market
Key takeaways for Q2 2022
Total Take-Up Levels

– 94,422 sq/ft

Vacancy Rates –

4.7%

(the lowest out of all Central London submarkets)

Grade A Average Rents

– £75 per sq/ft
After a strong start to the year, take-up in Midtown has returned to pre-pandemic levels, with 94,422 sq/ft leased throughout the submarket in Q2. However, despite returning to this level, these numbers are consistent with the long-term decline in take-up seen over the course of the last decade. While the 5-year quarterly average rate is 160,628 sq/ft, the 10-year quarterly average rate sits at 179,455 sq/ft. The submarket has only seen an average take-up of 96,650 sq/ft per quarter since the onset of the Pandemic.
Out of all the submarkets, Midtown has the lowest vacancy rate at 4.7%. This illustrates that there is a considerable demand for prime space in Midtown, coupled with the fact that 80% of available inventory is Grade B stock. Due to the rare nature of high-quality supply, the Midtown office space market's downward take-up trend appears destined to continue, with only 244,245 sq/ft of Grade A space currently available.
Prime rents in Midtown are once again flat compared to the previous quarter, sitting at roughly£80 per sq/ft in Bloomsbury and £70 in Holborn.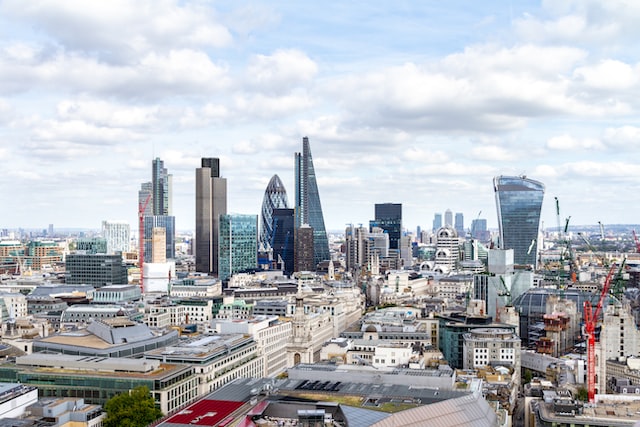 Outlook for London's Office Space Market
Quality office space in Central London continues to drive demand among occupiers. Looking at the key decision-making criteria, rental growth rates, and pre-letting data, it seems that the two-tier market hypothesis is gaining momentum. In the short to medium term, occupiers will continue to favour high-quality office space that offers first-class amenities, while also meeting increasingly desirable sustainability requirements.
Are you looking for office space in London? You can view our full range of serviced offices and coworking spaces or, alternatively, you can call one of our London commercial property experts on 020 3965 9617.
Looking for more articles?
For more deep dives into workplace statistics and general office insights, you can visit:
Average Salary in the City of London
Digital Transformation Across Industries: From Banking to Retail
The 10 Workplace Trends Defining 2022 So Far
Iconic and Influential Office Spaces in London
Definitive Guide to The Leadenhall Building: Everything You Need to Know
Do Employees Feel Supported by Their Managers After the Pandemic? (2022 Poll)
UK Office Workers Polled: Characteristics of a Good Manager
London Office Market Sees Highest Level of Occupier Activity Since Before the Pandemic
How to Deal with the Stress of Returning to the Office after a Long Layoff
10 Ways to Improve Office Moral
An Overview of Coworking Spaces in London