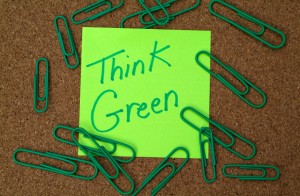 In a world that is increasingly dependent on technology, offices of all sizes use a lot of natural resources. From electricity through to water, businesses across the UK are now striving to reduce their carbon emissions by cutting down on their resource usage. Far from making life difficult, there are a few approaches business owners can take to give the planet a helping hand, while doing their bank balance a favour.
Encouraging Sustainability with the Latest Technology
There was once a time when paper was unavoidable, but today it's unnecessary to use it when it comes to most documents. Shifting most of your office's important notices to the digital world reduces the amount of paper you use. Some software even allows you to add digital signatures to documents, which in turn means you don't miss out on important contracts.
While focusing on digital documents only might seem like a hassle at first, it's worth considering the amount of time it will save. Whether you're working from Microsoft Word or using emails, search functions allow yourself and your employees to find essential keywords, without having to read a document in its entirety. Naturally, there will be times when using paper is still necessary. If this happens, focus on making the most of shredders and recycling whenever you can. The paper you recycle may later be used as a commodity for other businesses.
Efficient Water Practices for Offices
Most offices now have water coolers, and while they act as a great source of hydration and somewhere for employees to gather and converse, they also power through one of the world's most important resources. It would be unreasonable to expect any office manager to do away with their water cooler completely. You can, however, choose to use a reverse osmosis system instead. Reverse osmosis water coolers recycle water that may not otherwise be used due to lack of freshness.
In addition to reducing the amount of water you waste, a reverse osmosis system also buys into the government's Waste and Resources Action Program (WRAP), which has been implemented to ensure businesses use natural resources efficiently. Continue reading "Sustainable Office Practices" →