We can help you find office space in Pimlico that is available now, at budget friendly rates. View our South Central London serviced offices in business centres, shared coworking spaces, single occupancy hot desking solutions, storage units, conventional office leasing and virtual address options. Our professional consultants are on hand to find your business the perfect Pimlico address, on flexible terms, to suit your specific needs, at a price you can afford.
1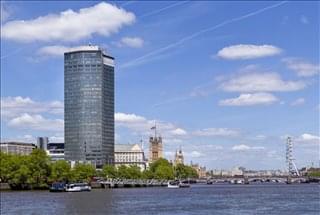 This location is an exceptionally stylish and highly modern business centre installation providing a host of premium and innovative corporate facilities and professional services such as impressive reception services and lobby areas, modern fully furnished private office suites, state-of-the-art professional office equipment, a fast online network, and high-speed internet access. Spacious, fully-furnished offices offer a team somewhere to... More info
Private & Serviced Offices
21-24 Millbank - SW1P 4QP
---
Business in Pimlico
Known for garden squares and Regency architecture, Pimlico is well situated close to Victoria station. The largely leafy residential area has had an important role in Britain's political life thanks to its close proximity to Westminster Palace and the Houses of Parliament. Pimlico is also the base for the National Audit Office, which is housed in the old Imperial Airways Empire Terminal on Buckingham Palace Road.
The Art Moderne building was designed in 1938 and was used by passengers as well as mail and freight travelling by rail to the company's flying boats stationed in Southampton. The headquarters of the Catholic Bishops' Conference of England and Wales is also located in Pimlico at Eccleston Square. With the Chelsea College of Art and Design at the old Royal Army Medical College and the Tate Britain a short walk away, the area also has a rich cultural and fine art scene.
Office Buildings in Pimlico
Most of Pimlico's businesses are based close to Victoria station. Businesses include restaurants, cafés, hotels and shops that support travellers using the rail station as well as workers in nearby Victoria Street, which is home to the Metropolitan Police's headquarters at New Scotland Yard, the Department of Business, Innovation and Skills, and other offices. Office spaces are also found along Vauxhall Bridge Road, Wilton Road, Buckingham Palace Road, and other roads within the northern tip of Pimlico.
Office buildings in the area include Minister House at 272-274 Vauxhall Bridge Road. Further south along Vauxhall Bridge Road at Number 20 is the Penguin Random House offices for Cornerstone Publishing, Ebury Publishing and Vintage Publishing.
About Pimlico
Pimlico is a largely residential district in Central London. The quiet neighbourhood's elegant streetscape is known for its grand terraced houses, brick townhouses and white stucco facades. Many of the buildings found in the area are fine examples of the Regency architectural style. Mixed in with Pimlico's residential areas are churches, garden squares, galleries and cafés that are often overlooked in favour of other parts of Central London. Pimlico sits within the City of Westminster.
The small, well-planned area was laid out by Thomas Cubitt in 1825 as demand for land for development grew following the Great Plague and Great Fire. At the time, land in the area was largely marsh that was being reclaimed with soil from the construction of the St. Katharine Docks. Over the years, Pimlico was the home of former Prime Minister Winston Churchill, former French President Charles De Gaulle, actors Laurence Olivier and Rhys Ifans, authors Aubrey Beardsley and Bram Stoker, designer Laura Ashley, and other notable individuals. Attractions include Dolphin Square and Churchill Gardens, as well as several churches including St. Gabriel's, St. Saviour, St. Peter's Eaton Square and St. James the Less. Although the Tate Britain is sometimes considered part of Pimlico, it is actually in Millbank.