Our experts are on hand to help you find the perfect Regents Park office space at cost effective prices. We have an extensive commercial property portfolio in North Central London, offering private serviced office suites, shared and coworking space, hot desking opportunities, virtual office services, and short term rental on flexible terms.
1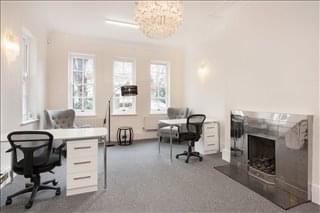 The workspace offers private offices that members can personalize. The offices are intentionally designed for clients to do their best work, offering different space types that enhance productivity and collaboration. Superfast internet, heating, water, lighting and electricity are all covered in the rates as well as service charges and business rates. This strange mix of old and new, traditional and modern, is what makes the workplace seem... More info
Private & Serviced Offices
45 Circus Road, St John's Wood - NW8 9JH
---
Business in Regent's Park
The exclusive Regent's Park area of London is known for its affluent and beautiful residential streets. It is also a gateway to the many attractions found at Regent's Park to the west, including the London Zoo and the Open Air Theatre. A diverse range of industries from production companies and financial firms to retailers and hotels are focused to the south. Most economic activity is based on either side of Euston Road.
The Royal College of Physicians and the General Medical Council both have offices in the area, which is also home to the Portland Hospital for Women and Children, the Royal National Orthopaedic Hospital. Debenhams' head offices, as well as Facebook, are also located in Regent's Park.
Office Buildings in Regent's Park
One of the area's landmark developments is Regent's Place, a mixed business, retail and residential quarter. The 13-acre site has been developed by British Land and has continued to expand since the 1990s. Nearly 16,000 people live and work in the area, which includes theatres and open spaces.
The site includes Euston Tower, a 34-storey office building. Tenants include JP Morgan, Atos Origin, Santander, Elexon and others. Euston Tower includes serviced office space with up to 200 workstations as well as meeting rooms and conference space. Other serviced office options in Regent's Park include Bentinck House at 3-8 Bolsover Street. The Edwardian building provides a sophisticated setting to do business with contemporary interior design and modern amenities.
Regent's Park Transportation Links
Regent's Park is extremely well connected to the rest of London via fast travel links from Regent's Park, Great Portland Street and Baker Street underground stations. Numerous bus routes also serve the area.
About Regent's Park
Regent's Park spans 395 acres of mainly open parkland and includes a collection of thousands of roses from 400 varieties at Queen Mary's Gardens. In addition to English Gardens and Italian Gardens at its south-east corner, the park also has gardens at St. John's Lodge. Regent's Park is one of London's Royal Parks and sits within the City of Westminster and the London Borough of Camden. It is also the home of William Andrew Nesfield's Avenue Gardens, the United States Ambassador's official residence at Winfield House, the Open Air Theatre, the London Zoo, and sports facilities covering almost 100 acres.
Primrose Hill also forms part of Regent's Park and features some 100 species of wild birds, as well as panoramic views of Central London. The land was the site of a manor during the Middle Ages and converted into a hunting park until 1649, when it was let out as small plots for hay and dairy farming. In 1811, the future George IV commissioned architect John Nash to develop a plan for the area, including a palace and several grand villas. Plans for the palace and villas were abandoned, although terraced houses along the park's edges were built. The park officially opened to the public in 1835.