Take a look at our Cheapside office space, available to rent on flexible terms, including executive suites and furnished offices benefiting from a full service package. We also have coworking and shared workspace, conventional commercial property, desk rental, warehouse space, short term office space available with easy in/easy out options, and virtual office opportunities. Our easy to use, Central London office space search service is focused on finding you the ideal business accommodation at competitive rates.
1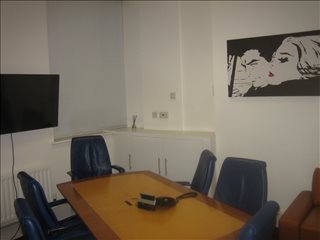 This business centre situated in the heart of London offers flexible work-space in a spacious modern building for up to 12 people. Perfect for start-up companies or small businesses. Offices here are non-branded and fully furnished, perfect for your company to add its own individual stamp. Other amenities here include 24-hour access, ample meeting and board rooms available and a fully equipped kitchen with beverage facilities so you can... More info
Serviced from £413 per person per month
Coworking from £413 per person per month
76 Watling Street, City of London - EC4M 9BJ
---
2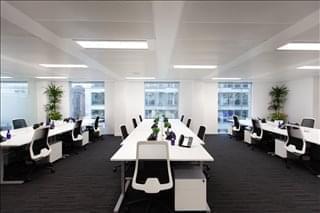 Providing 159,000 square feet of high-quality office space and seven retail units, 107 Cheapside is positioned in the heart of the City of London. Flexible licence agreements range from as little as a month up to ten years, giving you the choice to select a term that aligns best with your business needs.

This recently refurbished 183,000-square feet property has fabulous Grade A offices spaces flooded with natural light and a... More info
Serviced from £634 per person per month
---
3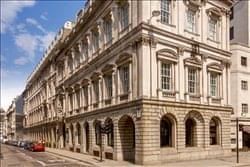 Atlas House at 1 King Street is an elegant Grade II listed property in the heart of the City between St Paul's Cathedral and the Bank of England. This stone-fronted building has 44,200 square feet of recently refurbished commercial space across five floors. The exterior includes a cloaked figure of Atlas that was carved from Portland stone in 1893-94.

In addition to a major bank on the ground floor, luxurious office... More info
Serviced from £800 per person per month
Atlas House, 1 King Street - EC2V 8AU
---
Business in Cheapside
Cheapside remains an important centre for commerce, a role it has played since the Middle Ages. Various retail and food outlets operate along the street. It is also the location of the City of London's only major shopping centre, One New Change. Opened in 2010, the retail development includes office space at the intersection with New Change and close to St. Paul's Cathedral. As part of the City's financial district, Cheapside is home to a number of offices. Regeneration efforts have focused on replacing buildings constructed during the 1950s and 1960s, particularly between Paternoster Square and Poultry. Cheapside is strategically located between the Bank of England and St Paul's Cathedral.
Offices in the area have excellent transport links with Bank, Cannon Street, Moorgate, Mansion House and St Paul's stations within walking distance. Businesses operating in the vicinity include BT, the Bank of Ireland, the Canadian Imperial Bank of Commerce (CIBC), Commerzbank, Fidelity, Investec, and many other financial and insurance firms.
Office Buildings in Cheapside
Office buildings along the street include 107 Cheapside. With 156,000 square feet of office space, the Grade A offices have been refurbished and include access to bicycle racks, locker facilities, showers and two atria. A modern and airy reception area and atrium are attractive features of 80 Cheapside. The development features 80,000 square feet of office space across seven floors. The 150 Cheapside building, branded as 1Fifty Cheapside, overlooks St Paul's Cathedral. The building features nearly 180,000 square feet of space with high-quality offices across eight floors. There are also retail units totalling over 22,000 square feet.
About Cheapside
Cheapside was the site of one of the City of London's two major produce markets up until the twelfth century. The streets name means 'market place', with 'cheap' deriving from the Old English word for 'to buy' or 'shop' and the medieval English term commonly used for markets. Similarly named streets are also found throughout the United Kingdom. Streets emerging from Cheapside reflect the trades that once thrived along them, including Wood Street, Bread Street, Honey Lane and Milk Street. Cheapside emerged as a hub for commerce and industry during the sixteenth century, with many of the UK's major wholesale markets being based in the area around Cheapside.
By the seventeenth century, Cheapside once again evolved and became the home of coffeehouses and socialising. Heavily damaged during the Blitz, the street is now the site of the City of London's only largescale shopping centre - One New Change. Opened in 2010, the retail and office development is actually located on New Change between Cannon Street and Cheapside. The historic retailing and market street in London's financial district also links St. Martin's Le Grand and Poultry, the home of the Bank of England and Mansion House. To the east of Cheapside is the famous St. Paul's Cathedral.