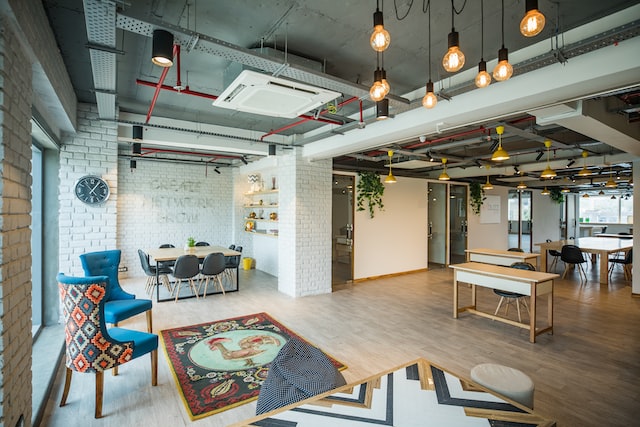 Office interior design has always evolved alongside the needs and requirements of occupants, with recent changes being implemented by office interior designers and business leaders being no different. The dramatic events that have taken place in the world of work since the start of the 2020s have made this even more evident. When compared to five – or even three – years ago, current tenant attitudes and requirements have shifted almost beyond recognition. Whilst many of the design elements now in high demand were predicted to eventually emerge over time, with initial concepts surrounding modularity and flexibility being present in cutting-edge tech offices in years gone by, few would think that any office design company would've predicted the rapid creation of such a new office interior design paradigm.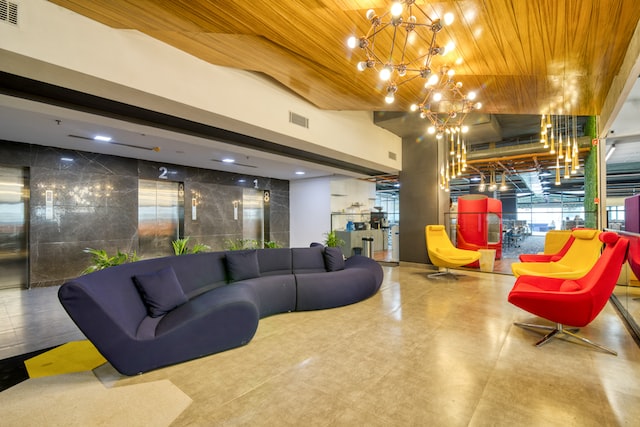 What Factors Have Influenced Office Design?
In recent years, particularly after the end of the widespread lockdowns of 2020 and 2021, we've seen the further consolidation of some emergent trends in the London office market. These include the concept of 'green offices', the inclusion of employee wellness facilities, and improvements in lighting, ventilation, and the use of sustainable materials. However, these factors are no longer considered exceptional or cutting-edge; they're instead considered entry-level features and assumed to be staples of the market.
One of the largest influences on current office design ideas has been the widespread adoption of hybrid working models, something which has enabled businesses to offer their staff more freedom to choose their own working environment. Under a flexible model, employees can work from home for part of their work week, whilst also satisfying their need for interaction with colleagues by dropping into a flexible, shared space that enables collaboration. These types of models are best facilitated by non-traditional offices, such as coworking or mixed-used space, as they allow businesses to cut down on overhead costs by only using the space they need.
The isolation experienced by many office workers throughout the early 2020s is another core driver behind shifting office design norms. Employees are now, more than ever, looking to interact with their colleagues in a meaningful way when they're physically face-to-face. This has led to the proliferation of office interior design trends that look to maximise colleague interaction, with office furniture now built to fulfil multiple requirements. Businesses with a knack for boosting productivity have even begun to include homely furnishings into their office space plans, shifting something as simple as a dining table and chairs out of the break room and into a prominent location to encourage casual conversation during breaks.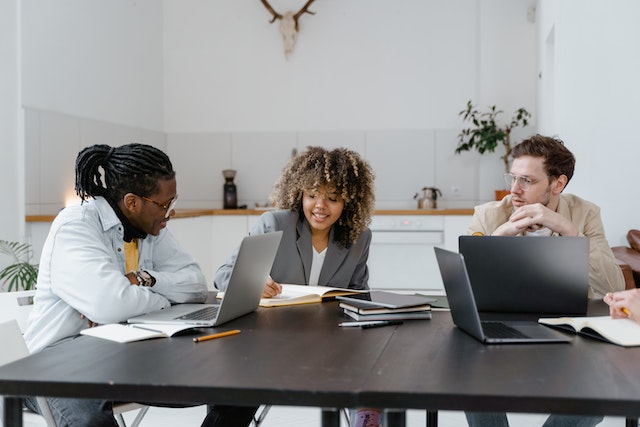 Coaxing Employees Back to the Workplace – The Role of Office Design
Simply getting employees to physically attend the office has been a difficult task for a lot of businesses since the rise of remote work and increased demand for flexibility. Whilst a lot of these businesses are finding that they're operating smoothly in a remote setting, coaxing employees back to the office, if only for a handful of days per week, has become increasingly important in a cultural sense.
But how do you convince employees to commute to the office when they don't have to? What possible lure could you provide that would beat the comfort and flexibility provided by working from home? This is where workplace benefits and interior design comes in. Office providers and business owners across the globe have been working tirelessly to make the workplace somewhere that employees actively want to go, experimenting with multiple design elements and perks to determine the best path forward.
This experiential and perceptual shift further heralds the widely reported power rebalance – whereby employees are no longer seen as simply office users who sit at a desk and work for eight hours. Instead, employees are now considered alongside valued customers, with defined needs and expectations, as well as design-shaping opinions that hold sway in business tenants' decision-making. Within this new paradigm, companies are putting more effort into adapting office space to the particular needs of individual employees, and the departments they work for.
For example, this could mean building bespoke spaces designed to fulfil the needs of specific employees or departments. We're already seeing this occur through the growing number of businesses that are adapting their workspaces, to ensure they provide the best possible opportunity for collaboration to flourish. This could mean doing something as simple as providing each employee with a unique desk chair tailored to their exact requirements. Many of these adaptations have been integral to the continued success of creative-types, with industries centred around marketing and advertising experiencing some of the most significant changes. The inclusion of more human-centric, communal spaces is also becoming more prevalent for companies operating in the tech and knowledge spaces, as they've largely followed the blueprint set by creative businesses and entrenched trends set by big industry players (think FAANG-likes).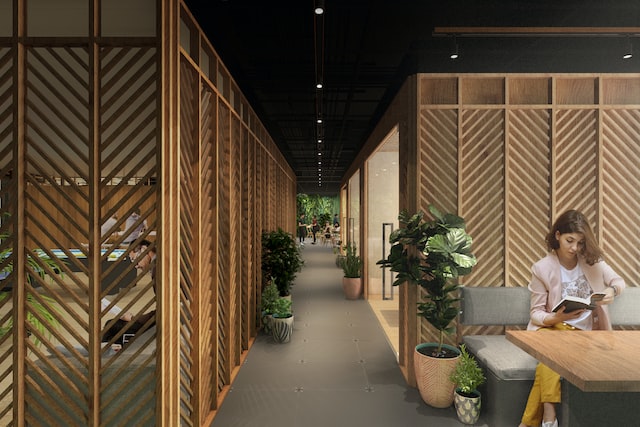 Elements of Humanistic Office Space Interior Design
Project or activity-based areas have already made a huge impact in the world of office space, and the trend is quickly becoming a mainstay feature. This arrangement facilitates a better utilisation of space, whether a company stays in their current offices or downsizes their floor plan for lower overheads – more appropriately accommodating a hybrid employee contingent. More than that, this design approach favours a more mindful alignment between office layout and the tasks that employees can perform in the space.
Evidence continues to mount in support of companies who've put human interaction at the heart of their office design and reaped the benefits, better positioning themselves for success. Human-centric design is already showing its importance in enticing top-talent back to the office, something that will more than likely continue to be crucial for office-based businesses moving forward. This means planning office space by taking into account the unique needs of the people who use it – putting their motivations and wellbeing first – in order to drive engagement.
In practical terms, this requires promoting free movement around the office as opposed to establishing rigidly designated spaces for onerous and isolated work production. However, one limiting factor to this further trend towards the communal could be its conflict with the strict health and safety measures that still haven't faded from collective memory, as well as the potential for distraction and procrastination.
Technology has already arrived to support this push for more human-centric design. Currently, these types of spaces are being well supported through the use of tools that manage systems related to flows of people, the booking of meeting rooms and hot desks, smart building management, and advanced analytics – all which can gather information about how workspace is being used and suggest new layouts or seating arrangements to maximise output and engagement.
The use of these technologies can be further implemented into office design to boost flexibility and help businesses cope with uncertainty. Incorporating smart technologies into office design can help prepare office-based businesses looking to manoeuvre around external changes and fluctuating headcounts.
Essentially, human-centric design entails moving from quantitative to qualitative design considerations. Whereas in the past, office designers and project managers would determine space requirements by the number of desks required, nowadays, many companies are moving away from fixed workstations. This reality makes it vital for businesses to design their workspaces to be agile, not allowing an initial concept or idea to dictate layout for an extended period of time.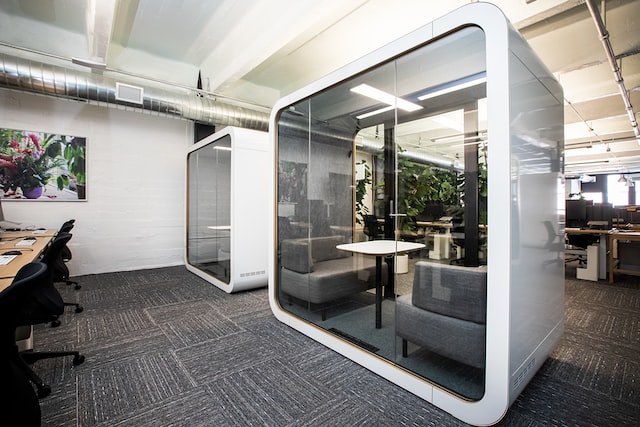 Trending Office Space Design Ideas
Other observable trends that will likely inform the future of office space design include:
Modular and Multi-Purpose Furniture
One of the biggest trends in office design in recent years has been the move towards modular and multi-purpose furniture. This trend is driven by a number of factors, including the increasing use of technology in the workplace and the need for greater flexibility and adaptability in office spaces. Modular furniture is often designed to be reconfigured quickly and easily, making it ideal for offices that need to be able to adapt to changing needs on a regular basis. Additionally, modular furniture is often much more compact than traditional office furniture, freeing up valuable floor space for other uses.
Quiet Areas with Sensory Controls
Whilst physical office spaces are undoubtedly trending towards collaborative spaces that encourage discussion and interaction, the benefits of quiet areas remain as important as ever. There is now a growing trend towards quiet, private areas with sensory controls. This shift is being driven by a number of factors, including acknowledgement of different working styles and the neurodiversity of workforces. Some employees require complete silence to remain productive, making quiet areas essential for any workplace looking to ensure they're properly accommodating of their employees' diverse needs.
Unique Open-Plan Spaces
In recent years, there has been a shift towards open-plan layouts that promote collaboration and creativity. These spaces are often filled with unique design elements – including eye-catch artwork or modular furniture – and offer plenty of room for employees to move around. They also tend to be more flexible, making it easy to reconfigure the layout as needed. While open-plan offices have their detractors, they offer many benefits that are proving popular with businesses. As the workplace continues to evolve, it is likely that open-plan spaces will play an increasingly important role in office design.
More Breakout Areas and Social Spaces
Increasing the number of breakout areas and social spaces in a workplace is a great way to promote collaboration, creativity, and cultural continuity. By providing a place for groups of employees to discuss important topics and generally socialise, without branding it as a meeting room, you encourage casual interaction and communication between colleagues. These types of spaces are also well known for bolstering productivity, as they allow for social interactions and business conversations to be taken to an area that ensures they don't distract others. Breakout areas are also great for employees who want to escape the monotony of working at their desk, providing an alternative space to get work done and recharge creative juices.
Wellness Facilities
There has also been a growing trend towards incorporating wellness facilities into office space design in recent years. This is partly due to the fact that more and more companies are beginning to recognise the importance of employee wellness. These facilities can help to promote employee productivity and creativity, while also reducing absenteeism and health care costs. Additionally, well-designed wellness facilities can help to create a more positive and collaborative work environment, something which is particularly vital for post-pandemic mental health. As the popularity of wellness facilities continues to grow, it is likely that we will see more and more offices incorporating them into their design. In doing so, they will not only be able to improve the health and wellbeing of their employees, but also increase their overall competitiveness.
Greenery and Natural Lighting
Growing interest in the role that greenery and natural light can play in office interior design has been another observable trend that is set to inform the future of the workplace. The benefits of biophilic design are well-documented, and office workers are increasingly demanding spaces that feel more natural and connected to the outdoors. As a result, many leading architects and designers are beginning to explore ways to incorporate greenery and natural light into their office designs. One of the most popular trends is the inclusion of living walls, which not only add visual interest, but also help to improve air quality and reduce noise levels. Similarly, skylights and large windows are becoming increasingly common in office spaces, as they allow for an abundance of natural light. Ultimately, these trends are likely to shape the future of office space design, as businesses strive to create more sustainable and user-friendly environments.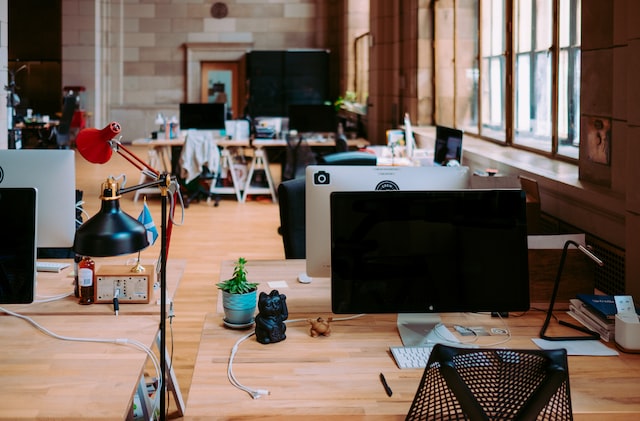 Wrap Up
Despite initial predictions, the events of the early-2020s haven't brought about the end of the office. Instead, they served as a catalyst for changing the way that businesses owners and employees viewed the workplace. For many industries, gone are the days of the traditional grey and dreary office space. It's instead been replaced by a more flexible model, including more modern and progressive office design elements – geared towards human interaction and the facilitation of creative space for innovation.
Looking for more articles?
For more deep dives into workplace statistics and general office insights, you can visit:
Iconic and Influential Office Spaces in London
Do Employees Feel Supported by Their Managers After the Pandemic? (2022 Poll)
UK Office Workers Polled: Characteristics of a Good Manager
London Office Market Sees Highest Level of Occupier Activity Since Before the Pandemic
How to Deal with the Stress of Returning to the Office after a Long Layoff
10 Ways to Improve Office Morale
An Overview of Coworking Spaces in London
How to Value a Commercial Property and Determine Rent in London