Furnished Offices & Desk Space
We offer a diverse collection of office space in Deptford to suit your company's unique requirements - from serviced office suites, individual hot desking options and shared workspace to industrial units, virtual business addresses and conventional offices for lease. Our free search service is designed to assist you in finding the ideal London business location at competitive rates.
1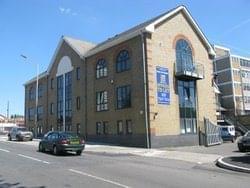 Offering excellent office space in a range of sizes and configurations starting from 634 to 2648 square feet. With plenty of natural light, on site car parking, 24 hour access, CCTV, lifts and more. More info
Evelyn Court, Grinstead Road, Deptford Park - SE8 5AD
---
2

The refined design and stunning landmark architecture are locally renowned as a commercially significant business establishment incorporating a neutral palette, international style, and industrial materials to create an elegant and fun workspace. Spacious, fully-furnished offices offer a team somewhere to work comfortably, where members can move in and get started - no need for time wasted setting up various desks. This state-of-the-art... More info
Private & Serviced Offices
Fuel Tank, 8-12 Creekside, Deptford - SE8 3DX
---
Business in Deptford
Deptford sits on the border of the boroughs of Lewisham and Greenwich. Up until the beginning of the twenty-first century, the area was dominated by the Deptford Dockyard and the docks were the area's largest employers. The closure of the docks resulted in a decline in Deptford's economic fortunes. Its largest private employer is Chris Carey's Collections, a clothing recycling company that works primarily with local schools and governing bodies.
The historic town centre is Deptford's main retail district, particularly along Deptford High Street and New Cross Road. Deptford Market is one of south London's busiest street markets. Based on Deptford High Street, the open-air market is primarily a destination for fruits and vegetables as well as antiques.
Deptford Transportation Links
The area is served by Deptford Bridge and Deptford High Street Stations, as well as New Cross and New Cross Gate Overground services. Bus routes are well established and offer links across London.
Office Buildings in Deptford
Much of Deptford's economic activity is concentrated on retail, and the area is also home to several charities and community organisations. Plans to regenerate the riverside area and town centre will help introduce new office accommodation into the area, which is limited to smaller developments for mainly local businesses.
Most office spaces in Deptford are found in the historic town centre, including along Deptford High Street and New Cross Road. Most commercial properties are older or refurbished spaces. Newer properties are found along Creek Road.
About Deptford
Deptford in South-East has long been associated with the docks in the area, the first of which were the Deptford Dockyard and the first Royal Docks established by Henry VIII in 1513. Currently known as Convoys Wharf, News International owned the site from 1932 until 2008. It used the site to import newsprint and other paper products until the dock was closed in 2000. The closure of the area's docks has led to a decline in the local economy, although Deptford is seeing investment in redevelopment and is slowly being gentrified.
Plans will see the 40-acre Convoys Wharf site redeveloped with mixed-use riverside properties. The project will add about 3,500 new homes, retail and leisure space and a hotel.