Although the consumption of coffee has been steadily growing over the past few decades, tea is still the British drink par excellence. The UK Tea and Infusion Association estimates that overall, Britons drink more than 165 million cups of tea every year. Approximately 66 per cent of UK citizens are tea drinkers, but despite that, we are not the world's number one tea drinking nation, as that honour goes to Turkey.
Perhaps because of the unpredictable and generally wet and cool British weather, tea has become our go-to drink rain or shine. In fact, approximately 40 per cent of all daily fluid intake comes from tea -and who could blame us?
As for our tea drinking preferences, nowadays tea bags have replaced lose leaf tea, and 96 per cent of all cuppas brewed in the UK every day are made using this convenient method. Milk is pretty much added to our tea by default, as it is believed that 98 per cent of Britons drink their tea with milk, whereas only 30 per cent add sugar to their cuppas.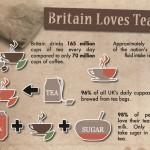 How Much Tea do the British Really Drink? – click for full infographic
Continue reading "How Much Tea do the British Really Drink?" →