Take a look at our Camberwell office space, available to rent on flexible terms, including executive suites and furnished offices benefiting from a full service package. We also have coworking and shared workspace, conventional commercial property, desk rental, warehouse space, short term office space available with easy in/easy out options, and virtual office opportunities. Our easy to use, London office space search service is focused on finding you the ideal business accommodation at competitive rates.
1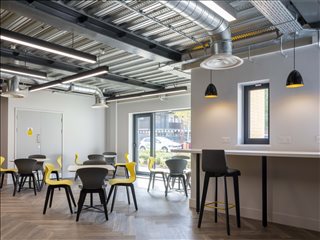 The centre opened in 2020, and the new build offers a great range of office space to rent. The offices range in size from 250 sq ft - 600 sq ft, available now. The centre also provides amenities like kitchen and toilet facilities to all clients. Manned reception during business hours and clients will have 24-hour CCTV with PIN code access. Clients will have Intercom to each office. Only 28 days' notice required. Preinstalled phone lines... More info
49-65 Southampton Way - SE5 7SW
---
2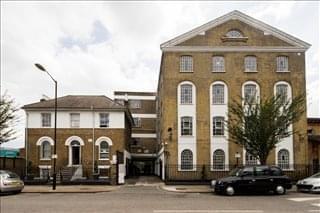 Situated on 99 Lomond Grove, this imposing Victorian residence and former bakery has been stunningly converted into a vibrant business community. Offices, studios and workshops are available on short- and medium-tern license agreements. With 23,000 square feet of workspace, the centre's units are arranged around a covered courtyard and range from 85 to 710 square feet in size.

There is also a virtual office option with a mailbox... More info
Private & Serviced Offices
Workshop and Industrial Units
Camberwell Business Centre, 99-103 Lomond Grove - SE5 7HN
---
Grow Your Business in Camberwell
Camberwell's commercial district is based in the area around Camberwell Church Street, between Camberwell Road and Denmark Hill in the west and Wilson Road and Benhill Road in the east. Several pubs, restaurants and shops operate in this area. Commercial properties are also found along Camberwell Road and Denmark Hill close to Camberwell Church Street. Much of the surrounding areas of Camberwell are residential.
Major employers in the district include King's College Hospital and King's College London, which operates its Denmark Hill Campus in Camberwell. The Institute of Psychiatry, Psychology and Neuroscience is based at the campus, which is steps from the Denmark Hill rail station. William Booth College is also found just south of the station.
Office Buildings in Camberwell
Office accommodation in Camberwell is relatively limited. Most spaces are in converted buildings or purpose-built business centre. Offices tend to be smaller, although businesses in a variety of sectors operate from this district in south London.
The Lilford Business Centre features affordable office spaces as well as studios and workshops. Units range from 320 to 3,500 square feet across two floors. Small and large offices are found on the business centre's first floor. Located at 61 Lilford Road, the centre has on-site parking.
Nearby is the Camberwell Business Centre at 99-103 Lomond Grove. The converted Victorian house and bakery has units ranging in size from 85 to 810 square feet. Offices are arranged around a covered courtyard and an on-site meeting room accommodates up to ten people. The business centre is home to solicitors, caterers, music industry businesses, and other companies.

Camberwell Transportation Links

Camberwell is served by the London Overground and rail services from Denmark Hill stations and Loughborough Junction. The journey to Central London is under ten minutes by train and local bus services connect the area to the rest of London.

More About Camberwell

Much of Camberwell falls within the London Borough of Southwark, although a small area is in the London Borough of Lambeth. The district's name probably comes from the Old English Cumberwell or Comberwell, which means 'well of the Britons'. This might have been a reference to the Celtic residents of the area that was dominated by Anglo-Saxons. The name might also mean 'Cripple Well', an unsettling reference to people with life-threatening diseases who were removed from the City of London to be treated with supposedly healing waters from local wells.

Camberwell's streetscape is a mix of Georgian and twentieth century properties. Some of the best preserved Georgian homes are found in the district, including along Camberwell Grove and Addington Square. Camberwell is mostly residential and includes several apartment blocks. Landmarks include the Salvation Army's William Booth Memorial Training College, a monumental building that is now home to King's College Hospital. Camberwell College of Arts and the South London Gallery are two of the district's many art galleries.