Year 2014 has come to an end with excellent news for the London commercial property market. During the past twelve months, this property market sector has experienced a consolidation of several upward trends that have particularly benefited the office sub-sector. Continuous rental growth, declining vacancy rates, and stable investment yields are some of the trends that have characterised the office market across most London areas over the past year.
However, prospective occupiers and investors may wonder whether the positive state of the office rental market is here to stay or is simply a temporary trend. The general consensus is that all the growth signs that have become manifest over the past year will become established trends in 2015. Overall, the outlook is positive and forecasts are packed with encouraging data. Let's take a detailed look at what the London office rental market has in store for 2015.
2015: Key trends in the capital's office rental market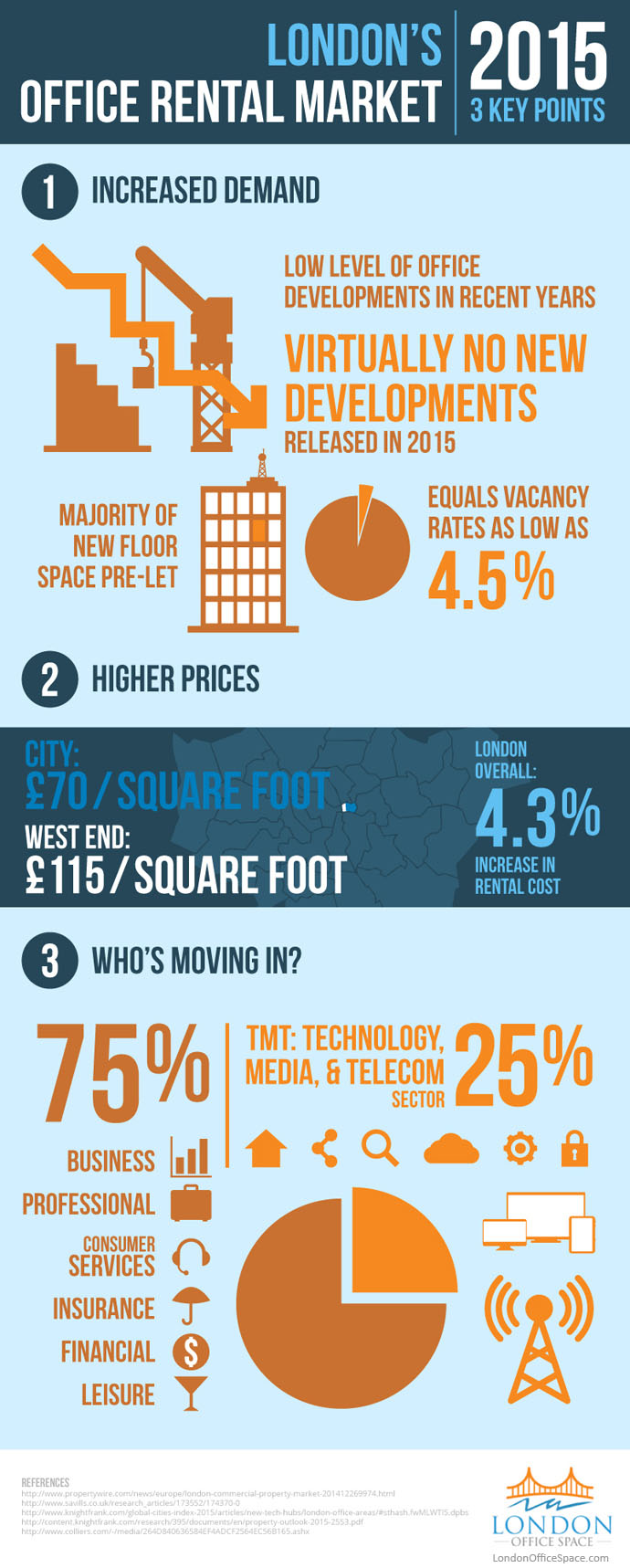 Share this Image On Your Site
According to a research report published in December 2014 by investment trust Schroders, 2015 will be a particularly favourable year for landlords who own office properties in London. Researchers at Schroders have affirmed that over the next 12 months, the capital's commercial property market as a whole will experience double digit growth. More specifically, the report claims that growth will be driven by the office rental market, which is set to be the best performing sub-sector during 2015.
According to the report, the main trend that will dominate the office rental market in London will be accelerated rental growth. Researchers affirm that the combination of two main factors is behind the anticipated growth in rental values. First of all, it is expected that during 2015 the British economy will continue its upward swing. This fact is set to prompt many occupiers to relocate or to move into new and larger premises, causing increased demand for office floor space in London. A report published by Oxford Economics affirms that over the next 5 years, nearly 82,000 new office-based jobs will be created in central London, driving demand for suitable office floor space. Secondly, we must take into account the low levels of development that have characterised the London office market over the past two years. Virtually no new developments will be completed during 2015, and the vast majority of new floor space that will be released has already been pre-let. This fact, together with a strengthened economy, is expected to put pressure on the value of existing rental properties and to bring down vacancy rate levels, which may reach 4.5 per cent.
Another important trend for 2015 relates to the industry sectors that are likely to drive rental growth across the office market in London. Market analysts affirm that the majority of deals will involve companies in industry sectors like finance, law, media, technology, and accountancy. In the West End, take-up will be led by the TMT sector, which is expected to account for nearly 25 per cent of all deals. This industry sector will be followed by the business, professional, and consumer services sector and by companies operating in the insurance, financial, and leisure industries.
From recovery to growth: a closer look at the forecasts
Research studies conducted by real estate firm Savills suggest that 2015 will be the year in which the office rental market in London will move from recovery to stable growth. Office properties in the City and the West End have evidenced that they are well on their way to reaching pre-recession values. More importantly, during 2015 we can expect to see how office floor space in other areas follows suit, generating increased demand, lowering vacancy rates, and driving rental growth.
Rental growth will become a reality across London. In the City, average prime rents are expected to increase moderately and to reach £70/square foot, whereas in the West End average rents may reach £115/sq ft. Overall, average rental value value increases will be in the region of 4.3 per cent.
The 2015 forecast also predicts that well-established office markets will start to face competition from areas that until now were considered secondary office locations. For example, what in 2014 were promising office locations will become highly sought-after areas where rents will slowly but steadily climb towards pre-2007 levels. According to the report published by Schroders, some of these areas include King's Cross, Farringdon, and the South Bank. Other areas that are set to become established office markets include Paddington, Victoria, London Bridge, Nine Elms, Regent's Place, and the area around Battersea Bridge and Vauxhall. In areas like Shoreditch, MidTown, and Stratford, increased demand is expected to come from firms in the creative, media, and IT industries.
Lastly, researchers predict that during 2015 serviced office space will become a popular option among London firms, and that this trend will continue until 2017, when more speculative developments are expected to be completed.
Sources:
http://www.propertywire.com/news/europe/london-commercial-property-market-201412269974.html
http://www.savills.co.uk/research_articles/173552/174370-0
http://www.knightfrank.com/global-cities-index-2015/articles/new-tech-hubs/london-office-areas/#sthash.fwMLWTI5.dpbs
http://content.knightfrank.com/research/395/documents/en/property-outlook-2015-2553.pdf
http://www.colliers.com/-/media/264D840636584EF4ADCF2564EC56B165.ashx