Demand for this type of office space is particularly high in London due to economic changes that have resulted in an increase on the number of small businesses and to the limited supply of small conventional floor space in the capital.
All-inclusive Pricing

What you see is what you get. With a single, set price that has been agreed in advance, costs become predictable and budgeting becomes easy.
Total Flexibility

Short / flexible lease length, so there is no need to commit to 5 or 10-year leases and tenants are free to move on to new premises as and when required.
Rapid Deployment

Serviced offices are ready to move in and reduce the initial capital expenditure required to set up a business.
Networking Opportunities

The existence of shared facilities offers opportunities for networking.
No Dilapidation Costs

Avoid the costs of repair and restoring dilapidations both during and at the end of your lease.
Inclusions and Exclusions
A serviced office licence includes access to fully equipped and furnished office space (workstations or desks). ICT infrastructure is also included, but the ICT provision may not be fully suited to the needs of all businesses and there is no option to switch service providers.
Licences generally include the use of shared facilities, such as meeting rooms, break areas, kitchen, bathrooms, and reception areas. However, tenants don't have much control over how these areas are laid out or decorated. Property management costs are included in the office service charge. Additional services like cleaning, reception and admin support, and security are typically included too.
As for the exclusions, some serviced office centres operate a pay-as-you-go system that applies to services like printing, copying, access to conferencing equipment, translations, etc. Premium services, such as access to gyms or wellness areas, are offered at some centres and may or may not be included in the monthly fee.
Typical Occupier Profile
SMEs are the most common serviced office occupier. First-time business owners are also typical tenants, as a serviced office is perceived as a less risky option when compared to conventional office space. According to a special interest paper published by the City of London Corporation, approximately 30 per cent of all serviced office occupiers are start-ups.
Large businesses and corporates have also begun to opt for serviced office space to handle temporary projects or as a secondary base. Serviced office occupiers with more than 250 employees mostly come from the finance, insurance, accommodation and food services, and admin support sectors. Many of them choose traditional space for core office purposes and "peripheral" serviced offices to satisfy other space requirements.
All sectors are well represented, but according to the BCA, 20 per cent of serviced office occupiers are involved in business services, 19 per cent in the creative sector, 11 per cent in finance and insurance, and 5 per cent are not-for-profits.
Serviced Office Locations in London
A Deloitte report estimated that the serviced office provision in central London amounts to 5 million square feet. Occupancy levels tend to be high across the city and average 80-85 per cent. Areas with the highest concentration of serviced office space include:
The City (especially around Moorgate, Liverpool Street, and Bank station), which has more than 1.7 million square feet and over 150 serviced office centres.
The West End, with 1.4 million square feet and over 140 centres.
Docklands, with nearly 200,000 sq ft. This area has experienced a dramatic increase in both demand and supply over the past decade.
Southbank and Midtown, with 700,000 sq ft each, and approximately 70 centres.
Eastern Fringe, including areas within the E1 postcode, such as Aldgate, Shoreditch, Bishopsgate, Spitalfields, and to a lesser extent, Stepney, Brick Lane, and Shadwell.
Typical Costs and Budgeting Considerations
Serviced office space is charged per workstation or desk. The average workstation size is 80 square feet and average rates across the city are just over £420.
In addition to the rates listed above, a deposit applies to serviced office licences. The deposit amount is typically equal to 1 month's rent for rolling monthly licences, whereas 12-month licences may require a 2-month deposit.
Other Considerations
There are other considerations that are relevant to business owners who are considering serviced office space in London. For example, whereas in the past average stays were limited to 1 to 2 years, many businesses are extending their licence to 5 years or longer. Serviced office space is becoming a semi-permanent arrangement as the market moves away from viewing this type of space as simply temporary office accommodation.
Tenants who require business accommodation in Grade A space are more likely to find a suitable serviced office in the City. With regards to average office size, it hovers around 25,000 square feet / office, but tenants looking for larger-than-average serviced offices have better chances of finding suitable space in EC2, EC3, and south of the River Thames.
Last but not least, it is important to bear in mind what the future may have in store for the serviced office market in London. For instance, the completion of the Crossrail project will bring further expansion to fringe areas to the north and west of the City, which may result in a hike on average workstation rates but also may give tenants a wider range of choices. Moreover, it is expected that this market will continue to grow to accommodate increasing demand, and more competition could eventually bring prices down and open up new markets.
More articles from the Office Solutions Section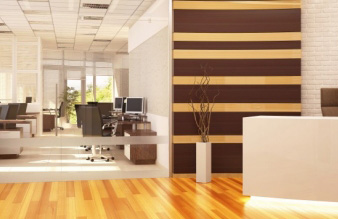 Conventional Office Space
Traditional office space is a good option for businesses with at least 100 employees and, across London, conventional office space is typically favoured by corporates.
Facilitates branding and advertising.
Potentially lower rates or discounts, especially whenever longer leases are agreed.
Flexibility and control over the premises' appearance, layout, and space management.
Only pay for the amount of space used.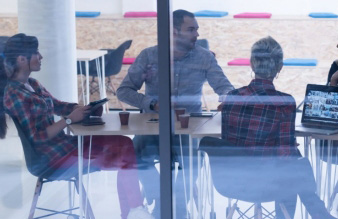 Business Centre/Park Space
Business centre and business park space is available in the form of serviced offices, virtual offices, hot desks, and shared office space.
Flexibility.
Better value than conventional space.
Creative allocation of space and high quality premises.
Lower financial risks.
No legal or commercial agent costs.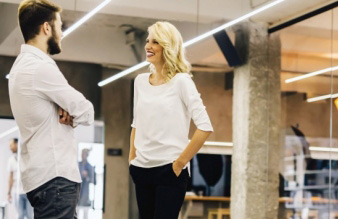 Managed Office Space
Managed or semi-serviced offices are a convenient office solution that suit the needs of business owners who don't want to commit to a conventional office lease but don't want to go down the serviced office route either.
Non-branded buildings.
Flexible licence agreements with easy in-out and renewal terms.
Move in within 3 months of lease-signing.
Credit checks are not usually necessary.
Total personalisation of office space.